Back in the summer, when Tennessee basketball was getting tons of top five hype, I wanted to temper expectations a tiny bit:
For Tennessee to play at a top-five level for a full season, you'd need the defense to be in the top five nationally again with the offense making The Jump from the low 30s/high 40s to ~12th or better. That's a *large* leap (nearly 5 points/100 possessions). https://t.co/4XM9dsA3gQ

— Will Warren (@statsbywill) May 22, 2018
To be third-best, you need an Adjusted Efficiency Margin on KenPom of, on average, +28.99 since 2010…or, alternately, about +6.72 points better per 100 possessions than Tennessee last year. It's okay to *only* be a top 15 or even top 10 team!

— Will Warren (@statsbywill) May 22, 2018
The idea of Tennessee making The Leap required a moderate leap in logic and the hope that essentially every player would get better/more efficient offensively while playing to their 2017-18 level on defense. That's hard for any team to do, much less a program with very little history of consistent top-five or even top 10 play. Tennessee's never finished above 8th in a season in offense on KenPom (2005-06), with only four top-20 outings (2007-08, 2008-09, 2013-14) in the last 20 years. Overall, they've never finished higher than 10th (2013-14), and the highest they've finished in Sports Reference's Simple Rating System (consider it a pre-KenPom SOS-adjusted rating, based on your scoring margin) was 7th in 1964-65. To be a legitimate top-five team would require a performance never before seen in the history of Tennessee basketball.
And, well, they've kind of done it. Tennessee ranks third nationally, of course, but they rank 8th on Bart Torvik's site (which factors in the average lead/deficit in a game), 11th on KenPom (uses final score), and 7th in the Massey Ratings consensus. All of those show this is, at worst, one of the three or four best teams in program history. The surprise here is that Tennessee's defense hasn't quite been on the same level it was last season; they've already surrendered five 1+ PPP games to opponents this year. The defense ranks 40th on Torvik (94.1 DE) and 32nd on KenPom (94.0). Very good and fine, but not elite.
So: why is Tennessee playing like a legitimate Final Four contender? How have they managed to live up to expectations so far despite a small defensive backslide? Well, here's one reason:
Also, another:
Okay, yes, one more:
THE OFFENSE. It ranks sixth nationally on both Torvik and KenPom, 18th in eFG%, and top 60 in most other categories. This is despite the following:
Lamonte Turner missing nine of 12 games
In the three games he played, Turner shooting 5 of 25 (20%) from three
Tennessee playing a seven-man rotation for nearly every game thus far
Admiral Schofield having a rough-ish start to the season
Jordan Bone shooting 11 of 46 (23.9%) from three
Jordan Bowden making 8 of his last 31 three-point attempts
Yves Pons and Derrick Walker combining for a 5 of 21 (23.8%) rate from the free throw line
And, lastly, Derrick Walker falling out of the rotation altogether
By my count, Tennessee's had at least eight things go wrong so far, and yet…here they are, a top-ten offense in the nation that's borderline top-five. How did they get here? How can they hold this level of play going forward? Let's explore.
---
Grant Williams became a top-five player in America
Not just in the SEC, and not just south of Ohio and east of Texas. In the entire nation. Williams, who was already pretty good last year (winning SEC Player of the Year mostly because he was the highest-scoring player on the league's best team/story), has become Superman this season. Name a stat from last year and he's improved on it. From 49.7% on two-point attempts to 61.5%:
From a career 15 of 56 (26.8%) on three-point attempts to 7 of 17 (41.2%):
A career 108 Offensive Rating to 128.6:
And, most amazingly, 17 and-ones (the most in the SEC; second place is Kentucky's Reid Travis with 10) where he's 17 of 17 from the free throw line after.
By counting stats alone, it's an unreal year for Williams: 20.7 PPG, 8.5 RPG, 1.7 blocks per game, 3.9 APG, etc. To do all of this with the target on your back, fighting off plenty of double teams, and essentially single-handedly playing your way into serious NBA Draft consideration…it's pretty miraculous. Few players nationally are as good at getting to the free throw line, and fewer still are more efficient at two-pointers. To be a better player is one thing; to be the college version of prime LaMarcus Aldridge is something else entirely.
Jordan Bone's giant leap forward
Honestly, this amazes me more than the Williams jump. Prior to this season, Bone was the default point guard starter that wasn't terribly efficient from anywhere on the court (39.7% from two his first two seasons, 35% from three). He took a ton of ill-advised mid-range jumpers (56 of 174 (32.2%) for his career prior to 2018-19), wasn't a terribly creative passer, and rarely got to the line. That sounds cruel and rude, but he wasn't one of Tennessee's five best players in 2017-18. Remember when he went ten straight games without scoring double-digits in the middle of SEC play?
That won't be a problem this season:
Bone's assertiveness is on a previously-unrealized level this season. He ranks tied for second with Admiral Schofield in usage rate (was fourth last year), is averaging nearly seven assists per game, and has completely turned around his mid-range game (24 of 45, or 53.3%). He's still not on the level you'd hope for in terms of finishing at the rim (21 of 40, 52.5%), but he's getting there. And the passes!
Bone already has three double-digit assist games this year, which is made even better by the fact he's limited his turnovers to two per game. As he continues to step into his newfound leadership role, he's flourishing, and the last three games from him are likely his best three-game stretch in college.
One glaring Bone issue remains: his outside shooting. He's just 11 of 46 from three this season, easily the worst rate among Tennessee's premier shooters. This won't stay forever – around 60% of his catch-and-shoot threes have been unguarded – and a progression to his career 35% rate is more likely. If Bone can recover to the 38% rate he posted last season, Tennessee suddenly has their own Big Three.
Oh yeah, Admiral Schofield is on this team, too
The most baffling stat about Admiral Schofield, per Schofield himself, is that he still has 5% body fat. This is impossible: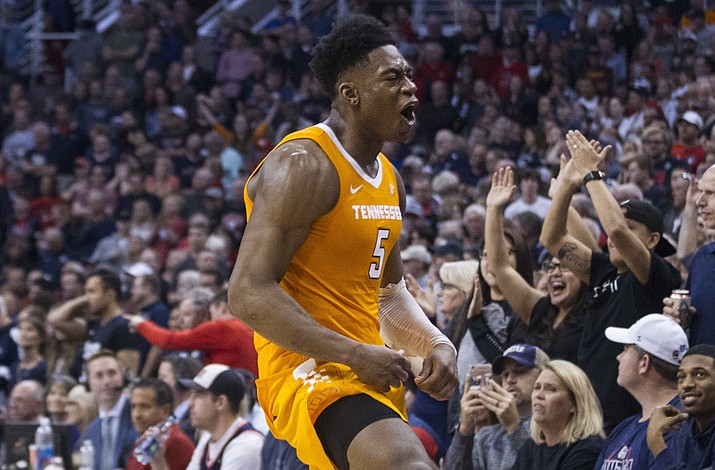 Sure, Mr. 5%. 0.5%, maybe. Anyway, Schofield struggled a little to start the year: 13 points on 12 shots against Lenoir-Rhyne, 23 points on 29 shots against UL-Lafayette and Georgia Tech. He needed 22 shots to get to 21 points against Kansas. Then, suddenly, he flipped the switch:
A 9 of 28 start from three has turned into a 17 of 30 run:
And, hell, why not – no one's more fun at the rim:
This isn't even counting his heroic performances against Tennessee's best opponents (20 and 6 against Louisville, 30 and 6 against Gonzaga, 29 and 11 at Memphis) and his natural ability as Tennessee's most ferocious personality on the court. It's not likely that he'll hit 45% of his threes the rest of the way, but a natural comedown to 40-41% is right in line with his career trajectory. Maybe a star turn will finally bring this man some star calls, because I can't think of a player on the roster who's been robbed of free throws more times this year.
Serious strides forward for Kyle Alexander
When I wrote about Alexander for the first time last year, he was still pretty unknown even to most SEC commentators. Dane Bradshaw said Tennessee should redshirt Alexander this season as recently as the Ole Miss game in February 2018. I'd like to say I called it, obviously, but the stats called it before I did. Anyway, I'm in the way of the story: Alexander has expanded his game out from the basket, is taking more shots, and has remained the elite rebounder and shot blocker he's been since 2016. No one on Tennessee's roster is better at the rim:
No one is better at gathering offensive rebounds:
And no one's three-point shot, considering his gawky figure, is more enjoyable:
Also, he's quietly a good passer for a 6'11" guy:
He gets to the free throw line tons (29 of 44, 66%), has hit 70% of all two-point attempts, and you have to guard him out to 22 feet now. Alexander will go down as one of the great underrated players in program history if this team makes a serious run in March.
…John Fulkerson?!?
Yeah, dude, it's weird. Fulkerson has emerged from the depths of me requesting his transfer to East Tennessee State last season to become extremely efficient at the rim (13 of 17):
He also…appears to be…a good passer?!??!?!?!?!?
After a disastrous 2017-18 where he was recovering from injury and genuinely looked the part of a scout team player, Fulkerson looks refreshed. This is, theoretically, the natural progression of a Fulkerson that didn't get injured in 2016. He's been fine enough at the line (14 of 22; 67.2% for his career), only takes shots within 5 feet of the rim, gets fouled a lot, and always seems to be in the best spot possible on offensive rebounds. The value of a legitimate bench stud like Fulkerson cannot be underestimated as the season goes on. His growth offsets Derrick Walker's surprising regression and cements himself in the rotation going forward at, say, 12 minutes per game.
Other assorted improvements
If he was even an average defender, Jalen Johnson would get 12 minutes every night. He isn't, but man, does he have a good-looking shot:
Jordan Bowden should be starting over Yves Pons because he's the better player, but he's also pretty inconsistent, so I get why he's the current sixth man. He'll hit more threes than he has (14 of 41, 34.1%). All that said, I've loved more than anything that he's gotten much more aggressive in driving to the rim:
I have no idea when Lamonte Turner's coming back, but Tennessee badly needs his outside shooting prowess for March:
Yves Pons is still figuring this whole thing out. On some nights, he's a turnover machine, and his self-confidence in always asking to guard the opponent's best scorer can get him in trouble sometimes. But, the dunks.
---
Overall, Tennessee's done pretty well. Sitting here on January 3, they're 11-1, #3 in the country, and will be favored in 10 of their first 11 SEC games. They'd need to win all the Lean Tennessee games (home Florida, the four non-Florida road games) to start 10-1 in SEC play, but considering Tennessee's offense, you can envision such a thing happening. At no point in the KenPom era has Tennessee strung together four consecutive 1.2+ PPP efforts on offense until this year, and they've got a decent shot of continuing that against Georgia. As a reminder, the program record for 1.2+ PPP games is 11 in 2013-14; Tennessee's already more than halfway there with, at worst, 21 games to go.
If the defense can catch up, this may be the most special team in Tennessee history. Even if they don't, it's the most fun team in Tennessee history. They rank third nationally in Assist Rate (68.5% of shots are assisted), only 4% of their shots get blocked (#1 in America), they're headed for the best 2PT% in school history by a mile (58.1%), they don't turn it over often (30th in TO rate; third-best in KenPom era), they crash the boards (61st in OREB rate), etc. They have the reigning SEC Player of the Year, who is twice the player he was a year ago. Their second-best player is built from stone and is lights out from three. The point guard is playing the best basketball of his life. When Lamonte Turner returns, they can throw out a five-shooter lineup, including Alexander, that seems like it'll be hell to stop.
Fretting about the future and finding yourself in the Black Pit of Negative Expectations isn't worth it. Enjoying what's in front of you while it's there sure is.