Alright well we got another one of these I guess. No. 7 Georgia comes to town on Saturday at 3:30 PM ET. They're pulling out all the stops for this one – the Biggest Game of Butch Jones' Career narrative, the Checker Neyland-ing, the Smokey Gray uniforms, obliterating the eyes of those who don't mess with the vision, etc. It's gonna be something, isn't it?
So here's the thing: college athletes are, by nature, inconsistent. Sometimes they get in fights. Sometimes they underperform. Sometimes they overperform. However, there's been a pretty consistent pattern in the four games from Tennessee and Georgia: depending on your numbers, Tennessee is either 1-3 or 0-4 against the spread so far. Georgia's 3-1, and the one was a 42-14 win over their overmatched FCS opponent in Samford. Tennessee's one win was a loss to Florida.
Take it past Vegas and the under/overperforming trends still exist. Through four games, Georgia's adjusted scoring margin (the most likely scoring margin if the game was played the same way 10,000 times) has outperformed Bill Connelly's S&P+ pre-game expectation by 45 points (11.1 PPG). Tennessee's underperformed by 21 (5.3 PPG). Together, that's a 16.4 point gap.
Along with that, as Houston Kress and Jon Reed have noted, it seems that Georgia's strengths line up almost perfectly with Tennessee's weaknesses. Georgia can run the ball on anyone with relative ease; Tennessee has failed to stop the run against every team on their schedule. Tennessee's offensive line hasn't created a push against any opponent yet and most yards are gained by John Kelly's own hole creation; Georgia ranks 11th or higher in every single defensive rushing category and they've played three rush-concentrated teams already. Tennessee's pass protection game is…yeah; Georgia's front seven seems to be in the backfield on every other dropback.
But: this game has been within eight points for the last six years. It's taken 34+ points to win the game for the last four. Plus, this series runs on streaks: starting in 1973, Georgia won four straight, then Tennessee won nine straight, then Georgia won four, then some alternating years, then Georgia won five, now Tennessee's won two straight. It would be appropriate for Tennessee to continue their streak in a year where almost no one believes they will.
Consider this game a very weird and very strange sci-fi movie that could be successful if a ton of things go right: you have to suspend your disbelief for it to work.
---
Offense
When your 5* stud QB goes down, you go to the next 5* stud QB
Alright, that's not totally fair; Jake Fromm was technically a very high four-star. But it's still going from a top-tier quarterback in his class to…a top-tier quarterback in his class. Kirby Smart has absolutely crushed it on the recruiting trail at Georgia, and it's already showing with True Freaking Freshman Jake Fromm.
The line on Fromm for the first month has been that Georgia would need to adjust their offense to a less-trustworthy quarterback than 2016 starter (and believed 2017-18 starter) Jacob Eason, and it's fair to say Eason has better arm strength and a better build. But Fromm's passing touch and pocket presence seems to be better. In three of Fromm's four games, he's hit 9.5 yards per attempt or higher. This is aided significantly by Georgia's explosive receivers (and explosive rushing game), but he still looks solid so far. I'm curious to see how he does against better defenses and better cornerbacks on Georgia's schedule, such as…ah…Florida? Auburn? Oh my God they're going to the playoff.
Three-headed backfield monster that can't be tackled by one man alone
For the 79th year in a row, Georgia has numerous great running backs that will ball out all over the field. I'm sure you're just floored to hear about this, huh? Anyway: we all left Nick Chubb for dead after a rough 2016 that was exacerbated by a terrible offensive line performance, but his 2017 looks pretty nice so far: 59 carries, 371 yards (6.29 YPC), and six TDs against three rush defenses that ranked as above-average in 2016 and all of which had very good success against opponents in rush defense before and after playing Georgia. There's only four teams in the nation that have more 20+ yard gains on the ground than Georgia's 11.
Sony Michel technically backs Chubb up, but I'm much more intrigued by true freshman D'Andre Swift: on just 27 carries, Swift has already racked up 196 yards, a touchdown, and is the team's go-to receiving back on passing downs (6 receptions; all other RBs have three combined). Chubb has seven of those 11 20+ yard gains, but Swift has three – a rate of one every nine carries (Chubb's rate is currently an insane one every 8.43). You'll be shocked to hear this, but Swift was a consensus five-star recruit.
Potentially explosive receivers that haven't been tapped yet
Because of Fromm's youth and the lack of a previously-known commodity at quarterback – plus the fact that three of four games have been comfortable victories – Georgia hasn't had to throw the ball much. Their standard down run rates are some of the highest in America, and the leading receivers on the team both have eight receptions (or two per game) through four games. However, we at Warren HQ love Terry Godwin:
This guy rules so much. On those eight receptions, he's racked up an insane 214 yards (26.8 yards per catch). Those are Georgia Tech numbers! Half of his receptions have gone for 25+ yards, and Georgia's comfortable running deep routes with him and with…oh, any other number of highly-touted players. Three of Georgia's top four receiving options (including stud TE Isaac Nauta) are five-stars, plus a four-star in Javon Wims. These dudes are SUPER talented, and they can break out at any time:
Improved, far less bad OL
It's not easy to fully determine this four games in, but Georgia's offensive line looks fine after looking like a dumpster fire throughout 2016. Last year, Georgia had surrendered 12 sacks through four games to mostly less-than-interesting defensive lines; so far, they've played three above-average defenses and have surrendered three. That plus a now-normally-functioning run game makes me feel like Sam Pittman is Sam Pittman again. Tennessee gave away Sam Pittman to hire Don Mahoney. I'm over it.
---
Defense
Oh my goodness this front seven
Here's how Georgia's three FBS opponents have fared in terms of Bill Connelly's offensive percentile rating (how good your performance rates against an average team's expectation) versus their other opponents:
Appalachian State: 96%, 46%, 47%
Notre Dame: 87%, 86%, 63%
Mississippi State: 86%, 89%, 74%
And here's how they fared against Georgia:
Appalachian State: 21%
Notre Dame: 13%
Mississippi State: 6%
The best a team has fared against Georgia so far is 25% below its second-lowest effort. If that held true for Tennessee, you can expect a 9% offensive percentile rating this weekend. Why is that? This front seven is absolutely monstrous. Say hello to OLB Lorenzo Carter:
If you read this series last year, you'll know I had a massive crush on Alabama OLB Tim Williams, who did literally nothing but pass rush and create insane havoc in the backfield. He was also built AF. That's Lorenzo Carter for Georgia: 6'6″, 243 pounds, has already forced a pair of fumbles, has three sacks, and owns the second-best opponent success rate on the team behind DT run-eater Trenton Thompson.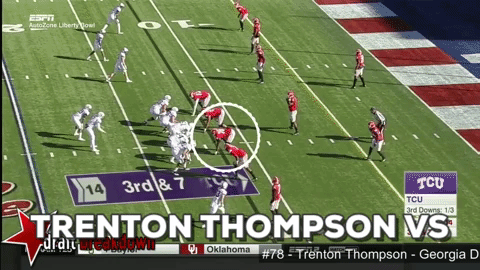 Seriously, the defense is so great that Lorenzo Carter's backup (D'Andre Walker) has four TFLs and a 20% opponent success rate (same as Carter). Oh and Roquan Smith is their de facto MLB and he also has a sub-30% opponent success rate. I literally can't name a player to target in the front seven if you're Tennessee. You just have to hope for the best. The next time someone tells you stars don't matter (the worst argument on earth in Power Five football), show them this:
5*, 3*, 4*, 5*, 4*, 4*, 4*.
What you see above is Georgia's front seven by recruiting rating: six blue-chip recruits in one lineup. SIX. That's Alabama-level talent. Reminder that Tennessee's reads like this and isn't very good for some reason, wonder why: 4*, 3*, 5*, 4*, 4*, 2*, 4*.
The secondary is really good too lol
Ugh. Remember this?
So Deandre Baker's still on this team and probably the best cover corner they've got (1 INT, 4 PBUs). However, I don't think he's the best defender in this secondary. That's J.R. Reed for me, who has 3 PBUs, 3 run stuffs (TFLs or zero-yard gains on runs), and a sack…and is Georgia's second-leading tackler. The most frustrating thing about playing this version of Georgia is that they're insanely aggressive and they can be insanely aggressive because they've got the talent to back it up. Georgia's secondary doesn't have the starting talent of their front seven (it's one four-star and three three-stars), but the run defense is so great at forcing bad situations for opposing quarterbacks and the pass rush so devastating that they haven't had to do much.
---
Special Teams
Hahahahaha of course they're #1 in this
OF COURSE THEY ARE. I think they're #1 based on the following items: Rodrigo Blankenship has proven himself to be a good-ish #collegekicker (congrats on the scholarship!), Nizialek is statistically the best punter they've had since prime-era Drew Butler (and maybe better), they're FINALLY good on kickoffs, and they have a seriously dangerous returner in Mecole Hardman. Will it be the best special teams group by year's end? Probably not. But top 15? Yeah, I think so. They're tough.
---
Conclusion
If you've made it this far, it should be pretty obvious that I'm both down on Tennessee's chances in this game and very worried about just how good Georgia might be. As of right now, I think Georgia's a legit top ten team (not top five) that may end up at 11-1 or even 12-0 with playoff potential just because their schedule sets up so well. At most, they'll be underdogs in one game (at Auburn, November 11), and they continue to overachieve the preseason expectations put upon them by most.
Most computer models are still factoring in preseason play. Because of this, the models I use for my Upset Spotting tool at my personal site give Georgia a 67.3% chance of winning the game, or about a +7.7 projected scoring margin. To my knowledge, Tennessee hasn't overcome a margin like that in the Butch Jones era. Based on S&P+ numbers from Bill Connelly, Georgia has played like the #9 team so far in 2017 and Tennessee like #50. If those held true for this game, Tennessee would be looking at about an 11.5 projected margin in favor of Georgia.
However, I look at all of the above and wonder how bad it might get. By under/overachieving trends alone, Georgia should win this game by 21.7 points (about 38-16). Based on offensive/defensive percentiles so far versus expected performance, Georgia's looking at around a 27-14 win. Either way, that's Georgia and the points. Add that to what I've heard this week about Tennessee specifically – locker room turmoil, head coach uncertainty, and a ton of other stuff – it's hard not to favor the red and black. Georgia 37, Tennessee 18.