For the last couple of months of the offseason, I've gotten texts and chats asking the same question about Tennessee's first game against Georgia Tech:
This is the second year of posts that attempts to answer this question, although only this one will be about Georgia Tech football. Show Me My Opponent ran last year at Orange and White Report and it will begin its second season overall, its first at FOX Sports Knoxville. I've spent a while trying to answer my friend's question: yeah, how good is Georgia Tech? Are they? Are they not? Do they pose a serious threat to Tennessee? If so, why?
This year's format will be similar to last, but we're going to focus a bit more on key players (names you'll hear a lot during the game), key matchups, offensive/defensive schemes, and Vegas/analytics line analysis. Anyway, let's start the preview.
---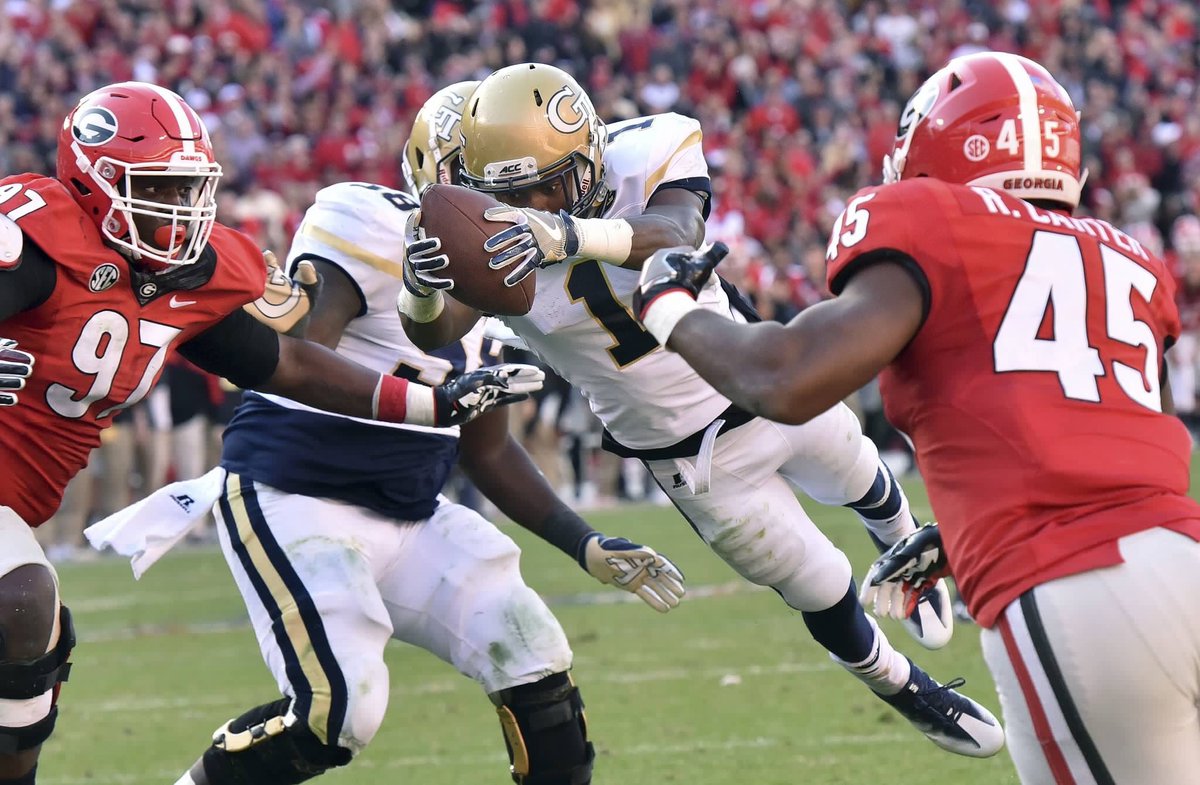 There's some simple facts to know about Georgia Tech before we get deep:
They went 9-4 last year and 4-4 in their own conference, winning the TaxSlayer Bowl.
They probably should've gone about 7-6.
Against the five Top 25-level teams they played, they went 1-4 and got outscored by 10.8 points per game.
They're still going to be a very dangerous team.
From 2013 to 2016, Georgia Tech went 7-6, 11-2, 3-9, and 9-4. Correctly predicting what this program will do has the same hopeless feeling as I imagine betting on baseball games gives you. It's a crapshoot, which makes sense. Georgia Tech's offense, the triple option, is a chaos-loving offense in itself. Their defense relies on preventing the chaos and forcing field goals just to get the offense back on the field. Georgia Tech, game by game, is literally a boom/bust proposition. That's why telling someone definitively what they bring into 2017 is tough.
However, here's some things we know: Georgia Tech brings back 82% of their defensive production last year from one of the ten best defenses in the nation at limiting explosive plays. That same defense had two of its three most impressive performances against SEC offenses (albeit Vanderbilt and Kentucky). On the whole, Tech returns 15 starters, seven on offense and eight on defense. The offensive line returns four players who started seven games or more in 2016. They return their top five pass-catchers. They lost the top three rushers to graduation or dismissal, but the four rushers who do return were responsible for eleven touchdowns last year. Paul Johnson certainly seems to be high on the team.
Plus, Tennessee just got done with an offseason full of question marks: who's the quarterback? (Quinten Dormady, though not enough to fully send Jarrett Guarantano to the bench.) Who's gonna catch passes besides Jauan Jennings? (Uh…) We know the offensive line returns most of its talent, but are they better? (Trey Smith is! I've heard not-great things about the rest.) Will a defensive line losing its two best players still be able to infuriate offensive lines? (Maybe.) Who's still on the roster to start at linebacker? (?!?!?!?) Will the secondary turn around to look for balls this year? (To be seen.) And WHAT ABOUT BUTCH JONES?
It's fair to say that both sides have a lot of questions that are commonalities. Both teams have to find a new quarterback, running back, and precisely one interior offensive lineman. Both teams went 9-4 in 2016 with wins over Kentucky. (Don't ask about Vanderbilt.) Both lost their best defensive lineman. Neither side has much certainty in the place-kicking game.
And yet…I just feel like Georgia Tech's answered these pretty well. It helps that the Yellow Jackets return their entire secondary, sure. They have *four* potential starting QBs. But what other serious questions are there? Even when they've sucked, Georgia Tech gets yards on the ground – they still had the 28th-best success rate per S&P+ when they went 3-9. They always seem to have well-timed play-actions that can murder a defense 30 yards at a time, if the quarterback can actually throw the ball. Predicting Paul Johnson play calls is really tough, because no two games seem to have similar gameplans and he really does seem to think of things on the fly, for better or for worse.
Meanwhile, Tennessee's named most starters, but they'll be missing the player most critical to defensive success (Darrin Kirkland, Jr.), their starting left tackle, and hyped-up Louisville transfer Shaq Wiggins is either battling a hip injury or hasn't impressed coaches at all. The big coordinator hire of the offseason was a coach who called plays for one year in high school. Fans still aren't confident in late-game management by the head coach. Plus, they have to replace six NFL Draft picks and either changed out or shifted responsibilities for an astounding six members of the staff.
…right, this is supposed to reassure you things will be okay. Uhhh…I can try?
---
Offense
The quarterback's gonna run, maybe pass some, probably run a lot
It's the triple option, duh. I still don't know who the quarterback will be, but most fans seem to anticipate it being redshirt junior Matthew Jordan who starts on Monday night. Jordan's just 8 for 18 in the air in his college career (2 TDs, 2 INTs), but those eight completions averaged 25.6 yards per play. That's insane! This is because Georgia Tech's routes are pretty limited. When they pass, they run a lot of four vertical routes (or three, or two) simply because the defense is so attuned to stopping the run that it's a sudden shock for the secondary. Then it's on the quarterback to nail the pass, and when he does…
Beautiful. Man, this offense can be fun sometimes. Anyway, the main goal of a quarterback in this offense is to read the pivot man on defense. There can be multiple pivot men in a single play: for a true triple option with the B-back (also known as a fullback), the quarterback must first read the defensive tackles. Have they sealed the middle properly? If so, start running, and run hard. Then, the second option reveals itself: a linebacker or interior cornerback. The quarterback has two options, and it depends on what player the defender crashes on. If the defender works towards the quarterback, he can pitch it quickly to a running back…if that back isn't also covered. If the defender focuses too heavily on the back? That quarterback might be gone for a looooooong touchdown.
These running backs are ***EXPLOSIVE***
Clinton Lynch, Qua Searcy, and JJ Green combined for 108 carries last year. Together, that's still 45 carries fewer than Sony Michel had last year for Georgia, and he's their backup running back. Guess what? It didn't matter at all: those 108 carries went for 842 yards (7.8 YPC) and ten touchdowns. That's an incredible sample, small as it may be. It goes to show how explosive these guys are. Only six teams in America had more 20+ yard runs than Georgia Tech in 2016, and it's not just on the ground. Check out this wheel route from Clinton Lynch on the real-life version of Triple Option Pass in the NCAA Football series:
Yes, Georgia Tech has wide receivers
The #1 receiver at Georgia Tech last year (and this year) is Ricky Jeune, a 6'3″ senior who caught 25 passes. He was a favorite of outgoing quarterback Justin Thomas, and he figures to be a favorite of whoever wins the job for Monday night. Jeune has a pretty solid ability to adjust mid-air to a pass, and so does #2 WR Brad Stewart (19 receptions, 382 yards). Past that, Tech doesn't really mix in any further non-halfback receiving options. They don't use tight ends or many three-receiver sets – that's what the A-backs (the ones who flank the tackles) are for. I expect Tennessee to handle both receivers pretty well, but it's on the linebackers to keep track of the A-backs.
Key matchups
Fill-in-the-blank-linebacker vs. any number of Georgia Tech A-backs. These linebackers have two duties: shut these explosive backs down and keep them from getting free on wheel and vertical routes. They're really good at sneaking past linebackers simply because linebackers aren't usually asked to help cover routes 30-40 yards downfield. Tennessee badly needs at least two of Cortez McDowell, Colton Jumper, and Austin Smith to step up here.
Tennessee's defensive tackles versus Georgia Tech's interior offensive line. Without a serious fullback dive option or interior run game, Tennessee can crowd the outside and force Georgia Tech to beat them over the top on long downs. If you tell Bob Shoop he'll give up two passing touchdowns but severely limit the run game's potential, he'll take it every single time. It's on Kahlil McKenzie and Kendal Vickers, predominantly, to clog the middle and take away any B-back success.
---
Defense
Patrick Gamble gone, but depth remains
Gamble had 7.5 of Georgia Tech's 17 sacks last year, making him in the same realm of value to Georgia Tech as Derek Barnett was to Tennessee. That sucks for Paul Johnson and company. The good news is that the other three starters return, and there's a lot of depth behind them. Of Georgia Tech's ten top defensive linemen from 2017, seven return, and one bench player (Desmond Branch) has supplanted a returning 2016 starter. Not bad! Georgia Tech's defensive line was average last year at forcing havoc plays to happen (71st nationally). Tennessee struggled against even bad defensive lines at times last year, so improvement here is key. Paul Johnson reportedly focused heavily on making this defensive line much more formidable this offseason. Anree Saint-Amour (4 sacks in 2016) is the best returning pass rusher.
Linebackers: unspectacular and questionable
I know that the player in question here who totally blows outside contain is normally a strong safety/nickel back, but he performs an outside linebacker function on this play…and blows outside contain. Georgia Tech's linebackers aren't very good, and nothing I saw in watching some of their plays from last season makes me think Tech should run much of the 4-3 – they should instead rely on the five-man secondary who hits hard and is pretty good at keeping explosive passing plays from happening. Georgia Tech plays good assignment football in general – just don't expect the linebackers to do much.
The secondary is bend-don't-break personified
That's star cornerback Lance Austin above. Did you know that the leader in passes defensed in ACC conference play didn't play for Florida State, Louisville, Clemson, Wake Forest, or any other really good defense? Nope! He played for Georgia Tech. Lance Austin was trusted against numerous #1 receivers last year and came away with at least a draw in nearly every battle he faced. Behind him is a lot of returning talent: safeties Corey Griffin and A.J. Gray (the leading two tacklers on the team), nickelback Lawrence Austin (3 INTs), and Step Durham (six PBUs in 2016).
This group doesn't necessarily create a lot of havoc or totally stop opponents through the air – they ranked in the 100s in passes defensed as a whole and rarely got in the backfield or created turnovers. Tech's defense, as constructed, will let you do what you want between the 20 yard lines…as long as you finish your drive by kicking a field goal and you don't get any gains above 20 yards. Would you like to know another insane and stupid statistic? Georgia Tech allowed fewer 30+ yard plays in 2016 (17, T-4th nationally) than LSU (19), Alabama (21), Florida (21), Ohio State (22), and Tennessee (37). (Sorry!) Georgia Tech's goal is as follows: limit missed tackles, big plays, and touchdowns. Whether they succeed at that is a week-to-week guess, but it's a noble idea.
---
Special Teams
Well, we'll see
I don't know quite what to expect here. Tech lost their punter and place-kicker, and they may end up starting two freshmen in the roles. I'd previously thought they could have an advantage here, but…yikes.
---
Conclusion
I've flipped and flopped on this game for a few months now. When I first approached it in January, I anticipated Tennessee would win somewhat comfortably – maybe 31-21, 34-27, something like that. I'd anticipated becoming more accepting of Tennessee's ability to win the game since then. The opposite has happened.
Nothing to happen since February has elevated my opinion of Tennessee's ability to win this game. The more I learned about Georgia Tech, the less confident I felt about Tennessee winning this game en route to a pretty predictable 8-4 (4-4) season. Most writers in Knoxville have that exact record projected. I would've pointed to at least one or two other games I'd anticipate Tennessee to lose before this one as recently as June.
However, it comes down to this for me:
Tennessee's linebackers and defensive ends are likely to struggle massively to defend outside runs.
We don't yet know if Tennessee's linebackers/secondary have the discipline to keep Georgia Tech's vertical routes from being successful several times in the game.
I don't think either offense will have much trouble with the other defense in the game. However, I think Georgia Tech has a greater advantage over Tennessee's defense than Tennessee does over Georgia Tech's defense at this time, mostly due to concerns about the offensive line.
And while Tennessee can change all of those by 11:30 PM on Monday night, my final concern is this: despite a serious talent advantage in Tennessee's favor, the Vegas line has never been greater than four points this offseason. It dropped to as low as 2.5 points before settling at 3. Tennessee outrecruits Georgia Tech like crazy. They'll have the better, faster, and bigger athletes all over the field. But can they be coached even to their talent level? I'm not sold, and I haven't been sold on Butch Jones in some time. Paul Johnson? That guy wins games with talent disadvantages frequently.
While the Vegas line is at three points, I have an analytics system I use on my end to work through games. The Vegas over/under has Tennessee at 7.5 wins this year; my system combining seven models has Tennessee at 7.49. Good enough. Anyway, that model says Tennessee wins this game by 1.7 points. It doesn't factor in Darrin Kirkland, Jr.'s injury, Shaq Wiggins uncertainty, or other issues. I don't quite know how to factor that in, so I have to introduce a bit of subjectivity here: it's not positive. A lot of analytics/stats-based systems are lower on Tennessee than most, which is worrisome; while Vegas is best at predicting long-term and short-term outcomes, the systems I have selected routinely rank alongside Vegas lines in predictive power. For them to be at +1.7 for Tennessee even before injuries and suspensions are factored in isn't good news.
My somewhat educated guess is this: Tennessee struggles to contain the tempo of the game – especially because Butch Jones already promised they'll still play fast despite that helping Georgia Tech out – and can't overcome serious issues with depth that probably shouldn't exist in Year Five. I've said for a few weeks now that I think this is the swing game between 7-5 and 8-4; I guess I'm going with 7-5. Georgia Tech 31, Tennessee 28.