THIS guy again. Awesome.
---
There are few college coaches who Should Not Be Here more than Will Muschamp. (I'll allow you Larry Fedora, Clay Helton, and Mike Sanford at Western Kentucky.) This absolute loser, this freak of a person, this big dumb idiot that already failed once at an SEC job. And he even does the key component of his job really well. It takes a special someone to get the main function of their job right and still screw it up. Will Muschamp's defenses as a head coach, by S&P+, so far:
2011 Florida: 13th
2012 Florida: 1st
2013 Florida: 4th
2014 Florida: 6th
2016 South Carolina: 50th
2017 South Carolina: 36th
2018.5 South Carolina: 48th
Alright, so those last 2.5 years aren't that hot, but notice how none of those defenses were anything less than at least above-average, and nearly half were among the country's elite. With defenses that good, Muschamp's career record must be pretty good, right? This bumbling stumbling moron managed to go 28-21 at Florida and 18-14 at South Carolina, because:
WILL MUSCHAMP'S OFFENSES AT FLORIDA/SOUTH CAROLINA:
2011 Florida: 62nd
2012 Florida: 39th
2013 Florida: 83rd
2014 Florida: 74th
2016 South Carolina: 109th
2017 South Carolina: 88th
2018.5 South Carolina: 68th
I HATE THIS. I hate it SO MUCH. I want both of these schools to fail continuously on loop in football and I STILL HATE IT. Will Muschamp has been gifted seven top-50 defenses, four top-15s, and three top 10s…AND MANAGED ONE (FORKING) TOP 40 OFFENSE TO GO WITH IT. The year he fell ass-backwards into the Sugar Bowl because Georgia's wide receiver wasn't smart enough to dropped a tip pass, he got obliterated by a Charlie Strong Louisville team that lost to UConn (AT HOME!) as two-touchdown favorites. He took Florida to 4-8. His 15-11 start at South Carolina was accentuated by riding dumb luck in close games (10-3 in games decided by 8 or less, 5-8 in all others) despite his defenses not hitting the levels they did at Florida and a run game that couldn't manage its way forward if they played 11 on 4. A disappointing 2018 was one of the easiest predictions in the world despite no member of the SEC's media class getting it through their thick skulls.
What might be most frustrating about writing this is that his team shouldn't even be 3-3. That's not a high bar to top, but he's already managed it. The adjusted scoring margin based on the boxscore of the Missouri game: Mizzou by 17.2. Actual scoring margin: South Carolina by 2. This would be funny if it wasn't the FOURTH TIME he's done this in 2.5 seasons. Please, let me know if you've ever watched a Will Muschamp team and thought they were well-coached. He already ran this Ponzi scheme at Florida on a grander scale; at least that group only went 4-3 in one-score games his first two years before caking their pants in 2013.
All the talking points about this team in the offseason have already been shoved back into mouths. Deebo Samuel's averaging 11.6 yards a catch but precisely five of his 33 catches have gone for 20 yards or more. Rico Dowdle's barely topping four yards per carry against a schedule with Missouri, Vanderbilt, and Coastal Carolina on it. Jake Bentley's thrown seven interceptions in the five games he's played. "What's the ceiling for a Muschamp offense?," Bill Connelly? About the height of Ned Flanders' hallway.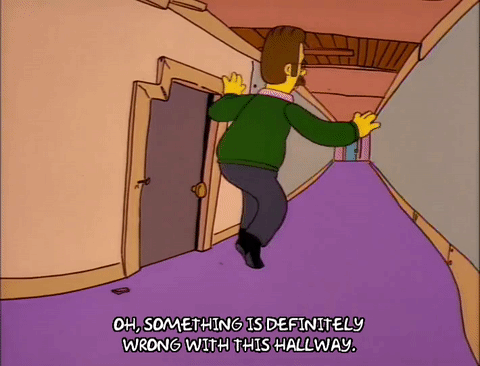 Even better is that his defense is average at best, and likely only because they've managed to be bizarrely good on third downs despite being good at nothing else. Teams are RUNNING on South Carolina because the best defensive lineman ranks seventh on his team in tackles and the linebackers are asked to compensate immensely. Missouri, who is not my first thought of a Running Team, got 286 yards on 46 carries. Three of the four good teams they've played have hit 195 yards on the ground or more. (Jury's still out on the Vols being good, though.)
Remember all the talk about how this was a borderline Top 25 team? How they'd be the biggest challenger to Georgia in the East? How, No, Really, Will Muschamp Is Good? This Bryan McClendon thing, it'll work out! No, it's not concerning that Tennessee only wanted him to be their wide receivers coach and didn't want him to call plays at all, right? Now, South Carolina's got a 40% chance of making a bowl – not a New Year's Day bowl, any bowl – per S&P+. FPI essentially has them at 50/50. Adorable breakout season you've got there.
And despite all of this, Tennessee is a touchdown underdog at South Carolina, just like they were four years ago when Butch Jones beat Steve Spurrier, just like they were five years ago when Butch Jones beat Steve Spurrier. Tennessee's Second-Order Wins are 2.3, just like South Carolina's, but at least I feel like S&P+ underestimated the control Tennessee took of the Auburn game (and it doesn't factor out the late-game Auburn TD). What's South Carolina's excuse?
---
OFFENSE
Jake Bentley has regressed
I tried to think of a cute title for this one, but it's easier to lay out a fact instead: Jake Bentley has somehow gone from being Actually Pretty Good his sophomore year to Are We Sure He's Good? the very next season. Program observers aren't exactly sure what's going on, but he's been  about the same as last year against a schedule that's featured two good pass defenses.
2017: 62.2% completion rate, 7.1 yards per attempt, 18/12 TD/INT ratio, 130.73 QB rating, 63 of 394 passes defensed (16%), 79 PFF rating
2018: 60.5% completion rate, 6.9 yards per attempts, 10/7 TD/INT ratio, 129.75 QB rating
What's most interesting to me is that Bentley, statistically, has been pretty much the exact same quarterback through two seasons (half of 2016, half of 2018). His completion rate has fallen and so has his yards per attempt, but ESPN's QB Rating for him is steady: 62.5, 65.1, 65.4. So is his unadjusted QBR: 57.6, 59.8, 57.6. What if – and hear me out – Jake Bentley was never that good of a quarterback? Whatever the deal is, Bentley seems to me to be significantly more hesitant this year on throws:
And, partially because of his weak supporting cast that we'll get to in a second, Bentley appears to be picking up some of Josh Allen's worse instincts:
Part of me does feel for Bentley, because, again, this isn't all his fault. As you can see above, the left tackle gets blown by a linebacker without the LB breaking a sweat, Carolina's interior linemen basically give up on the play for two seconds, and Bentley covers probably 30 yards in a play that ends with him hitting a Kentucky defensive back in stride with a wide receiver open downfield. It's awful, and he should've gone to an open receiver he had for 8-10 yards and a first down. (I appreciate Bentley's valiant Rex Grossman downfield pass, but he should know that Keepin' It Real Goes Wrong sometimes.) But it's like, what are you gonna do when half a defense is coming after you? Then again, look at the Texas A&M interception GIF and tell me that he's not struggling to place the ball accurately.
Bentley also doesn't appear to change many protections at the line. It's worth keeping an eye on if, on blitzing downs (basically every third down of 4 yards or more and the vast majority of fourth downs), Pruitt gets creative with linebacker and secondary blitzes.
Bentley (or the backup Michael Scarnecchia, fresh off a star run in Threat Level Midnight) has dropped back on 35 of Carolina's 41 third or fourth down attempts of six yards or longer; they've been pressured on 18 of these dropbacks, by my count. This could be a very good day for an enterprising young member of the front seven.
Running backs aren't special
Despite this offensive line reportedly being pretty good the first three games (two of which were against Coastal Carolina and Vanderbilt), the run game has never really managed to get off the ground. Part of that is the OL itself, but part of it is Carolina's main running back being a plodder and their equal, if not better, backup being underused.
Only South Carolina has fewer rushing yards on the season than Tennessee in the SEC (mostly due to playing one fewer game). Just five of their league-low 21 touchdowns have come on the ground, and the Gamecocks also own last place in the SEC in rushes of 10+ yards (26; next lowest Tennessee at 31). South Carolina does not have a single 30+ yard run on the season, and the only teams nationally to have fewer 10+ yards runs that tie them in ineptitude here are Fresno State (who is very good and is a pass-first offense) and San Jose State (who is very bad).
I wrote this last year and, somehow, it's still (mostly) true:
Let's take a look at some numbers:
Rico Dowdle, South Carolina's starting running back, has 187 yards on 56 carries.
Ty'Son Williams (great name), his co-starter/backup, has 281 yards on 49 carries.
Dowdle does not have a gain of longer than ten yards on the season. Williams has eight.
Dowdle has more carries in four of six games.
HOW HARD CAN THIS BE?!?!? I am NOT going to let you people get away with Will Muschamp Is Actually Good again.
Rico Dowdle is still the starter. He averages 4.2 yards per carry, has fumbled twice (lost both), and averages just 2.98 Highlight Yards (yards gained on runs past five yards, which is where the line's "job" generally ends) per opportunity, which ranks dead last among 16 qualifying "feature" backs in the SEC. He is, to put it politely, not fast. Ty'Son Williams, the backup, averages about five fewer touches a game despite averaging a full 1.3 yards more per carry. He's also more explosive downfield. However, he hasn't been terribly efficient (his Marginal Efficiency is just 0.8% higher than Dowdle) and seems to be very boom-or-bust. AJ Turner (6.2 YPC, 6.07 Highlight Yards average, highest Marginal Efficiency) should probably be getting more than four touches per game.
Deebo Samuel's still here, but the WR corps as a whole is dropping everything
Just like it's been for 2.5 seasons now, Deebo Samuel is the Bentley target hog. Nearly 27% of South Carolina pass attempts have been sent his way this year, a close-to-appropriate amount for your #1 receiver. (Remember when Butch Jones and Mike DeBord would target the #1 receiver about 15-20% of the time? Very cool!) Samuel hasn't been as explosive this year – 382 yards on 33 catches for four touchdowns – but he's still a threat anytime he's on the field.
Bryan Edwards is the #2 wideout, Shi Smith #3. Both have had equal, if not outright better, seasons than Samuel from a positive stats standpoint. Edwards has 351 yards on 28 receptions and 5 TDs, Smith 314 on 21 and 2 TDs. Both are averaging more per catch and per target than Samuel, Smith has been the most explosive WR, and they're both catching more of their targets.
However, the corps as a whole – plus Dowdle, mostly – is struggling mightily to catch the ball. Per Gamecock Central, Carolina has dropped 18 passes this season, including five in the Texas A&M game.
South Carolina's biggest strength has been a liability the last three weeks
Not that this would shock anyone, but South Carolina's offense is struggling after having to face actual competition on a consistent basis (yes, they faced Georgia in week two…sandwiched in between Coastal Carolina and Vanderbilt). Let's look at the numbers:
Games 1-3: 106 rush attempts, 590 yards (5.56 YPC), 5 TDs, 67.5% completion rate, 7.54 yards per attempt, 8 TDs, 3 INTs
Games 4-6: 100 rush attempts, 332 yards (3.32 YPC), 0 TDs, 51.9% completion rate, 6.39 yards per attempt, 7 TDs, 4 INTs
Hmmm. Wonder what happened!
Games 1-3: 9 tackles for loss allowed, 3 sacks allowed, 2 QB hurries, 3 fumbles
Games 4-6: 19 tackles for loss allowed, 6 sacks allowed, 16 QB hurries, 5 fumbles
Ah! That might do it. (Look at those QB hurries!) Missouri got ten TFLs on this South Carolina offense, and it's not as if Missouri's exactly learned how to play defense in the last three years. Kentucky sacked Bentley and Scarnecchia twice each. A&M didn't create a ton of negative plays – just one of Carolina's 17 runs went for negative yardage, for example – but they were in the backfield so much that Bentley rarely had more than a second or two to find a receiver. I watched all of A&M-South Carolina, and on Bentley's 37 dropbacks, he was either hit, hurried, or pressured 18 different times. Free advice: that is not how you win football games.
---
DEFENSE
Good, not great
I don't have much in the way of true analysis here simply because I'm much better at telling you how an offense works than I ever will be on defense. (I'm a child and I like points.) Here's the players you need to know Saturday:
DL Javon Kinlaw. Best defensive lineman so far this season, has 6 run stuffs and 5 TFLs. Average play that ends in his hands goes for 1.3 yards.
DL D.J. Wonnum. Returning from injury. Apparently recognized as Muschamp's Most Productive Player on defense in 2017. Debatable as to if he's in game shape or not, though.
LB Bryson Allen-Williams. The best player on the defense, seen sacking Drew Lock above. Has nearly double the TFLs that second-place on this roster does (9.5 to 5).
LB T.J. Brunson. Less productive in the backfield, but leads the defense in tackles with 30.5.
DB Steven Montac. Five PBUs, no picks somehow.
DB Jaycee Horn. Remember this guy? Five PBUs, no picks somehow.
DB Rashad Fenton. Three interceptions.
---
SPECIAL TEAMS
Fairly special
In order:
Parker White is the kicker and is 8 of 9 on the season. Pretty reliable, mostly within 40 yards. Has a weird smile. Also handles kickoffs, which have been okay.
Joseph Charlton is the punter. 45.3 average on 22 punts, 15 of them fair caught. He's no Joe Doyle but he's pretty good.
Bryan Edwards returns punts and has done very little with his opportunities so far.
Deebo Samuel normally returns kicks. You know about Deebo Samuel. Do fear Deebo Samuel.
---
CONCLUSION
The basic story: Two very similar teams playing each other that are probably going in opposite directions, both short and long-term.
Key matchups: Jarrett Guarantano Making the Most of a Clean Pocket. Tennessee actually holds the second-best pressure rate on third-and-longs in 2018 and has handled pass protection pretty well; it's run blocking they suck at. South Carolina has the third-worst pressure rate in SEC play. Even without Trey Smith, Guarantano should have a good amount of pass plays with clean pockets. Hitting receivers in stride is key.
Tyson Helton Versus Jeremy Pruitt Versus Tyson Helton. This dynamic seems pretty toxic and ready to burn, barring Helton calling some truly wild stuff the rest of the way. Given what we've seen through seven games, Helton reminds me most of Mike Bajakian.
Tennessee's Patchwork Offensive Line Versus South Carolina's Good-Ish Front Seven. I worry much more about this in run blocking than pass blocking. Pass blocking is tough, too, but no individual lineman has been rancid enough to make me worry that much here. Road grading is different, and I wonder if Tennessee can even get to 3 YPC against a defense with actual athletes. 4 YPC is probably the goal here.
Tennessee's Wideouts Versus South Carolina's Secondary Talent. This is a very good defense on passing downs. It is critical that Guarantano target his best players early and often.
Tennessee's Stoppable Front Seven Versus a Maybe Bad South Carolina OL. Time will tell if this was just SoCar facing good defenses or if it's a sign of worse things to come, but the opportunities to attack the backfield are very much there. Potentially a big game for Emmit Gooden and Alexis Johnson.
Whoever Draws Deebo Samuel Versus Deebo Samuel. I would place a sizable amount of money that Bryce Thompson is begging Pruitt to face off against Samuel. Whether that happens is up to Pruitt, but it's the best hope Tennessee has.
Shawn Shamburger Versus Figuring It Out. I'm not sure much more needs to be said here.
…..PUNTER VS. PUNTER?!? Look: this game is going to suck. I would be profoundly surprised if either offense touched 30, and might even be surprised if the winner touches 25. The total on this game being 54 is hilarious. Then again, I thought the same about Auburn. Regardless, field position will be critical, considering both sides are gonna face a lot of third downs that they won't convert. Joe Doyle is important to Tennessee's fortunes here.
CHANGE THE CHANNEL AND GO OUTSIDE IF:
Tennessee touches Bentley less than five times in the first half.
South Carolina starts getting 5-7 yards with regularity on the ground.
Jarrett Guarantano gets hurt and Keller Chryst throws ducks with the velocity of a silent fart into the hands of Jaycee Horn.
DO THE MR. BURNS FINGER THING IF:
Bentley gets pressured on every other dropback.
Tennessee gets to 4 yards a carry or better by halftime, sacks included.
South Carolina drops three or more passes.
South Carolina, as I pointed out all offseason, was due for serious regression. Part of that was the close games thing, but another part is pretty basic: you cannot consistently win SEC games without a quality offense. Your ceiling is basically 7-5 or 8-4 unless you have a top ten defense, and even then it's hard to say. The East wasn't going to stay terrible forever, and now, they basically have to win this game to make a bowl.
Tennessee can afford a loss, but the margin for error grows thin after. Charlotte gets you to four wins and Vanderbilt having looked somewhere between bad and awful for five straight games probably gets you to five. At that point, you're reliant on having to pick off one of Kentucky (who is also due for serious regression) or Missouri (who's a good team with a top ten offense) to make a bowl. Preferably, it doesn't get that far, and Tennessee heads to Vanderbilt 6-5. The last time Tennessee went on the road, I picked them to cover but not win. They won. Considering my lack of success in figuring out Tennessee so far (predicted 4-point loss to WVU, 3-point win over Florida, loss to Auburn, 45 points scored on UTEP), I'll stick with fading myself and hope for the best. South Carolina 27, Tennessee 22.