lol
A tale as old as time pic.twitter.com/MvIMu1J974

— dan taylor (@ThatDanTaylor) September 12, 2017
SOUND THE ALARM IT'S FLORIDA TIME
---
Florida has finally, firmly closed the books on 2016. I know it's September 2017, but it might as well have been 2016 Month 21 for Florida: they got obliterated by a far superior team in what was more or less an exhibition game, the state took the brunt of the largest hurricane in my lifetime, they still don't have a disciplined football team, and, yet again, severe weather serviced as a potential turning point for the football team's season based on a potentially very public battle about the location of a fierce rivalry game.
And yet, it seems that the University of Florida finally handled a situation internally and privately. I personally haven't heard of a major disagreement between the two schools over how this game should've been handled. Both Tennessee and Florida wanted it in Gainesville badly for different reasons – Tennessee to not play at Florida two straight years, Florida to not lose out on huge home game revenue. And it worked out literally the way everyone involved wanted it to. Imagine that!
Anyway, the game. If you're reading this, you hate them. It's simple. The University of Florida, responsible for giving the world Aaron Hernandez, Marco Rubio, Cris Collinsworth, Dan Bilzerian, Teez Tabor, Chandler Parsons, Joe Scarborough, Bill Whittle, Will Hill, Chris Rainey, Janoris Jenkins, Reche Caldwell, a freaking Steinbrenner, and thousands upon thousands of well-to-do gentlemen who happen to be very bad at life. Smart people go there, and a whole lot of dumb people do, too.
This school is responsible for numerous terrible memories for anyone reading this post. It's not just because they birthed these people (and Tim Tebow, who is fine) onto the world. Faxgate. 31-0 in 1994. 62-37. The almost comebacks. The touchdown that absolutely, positively was not a touchdown. ELEVEN IN A ROOOOOOWWWW. And millions of other stupid tiny paper cuts that make this rivalry the clear #1 rivalry for fans under about 35 years old.
The wilderness of eleven years, which covered two presidents and numerous major world events along with four Tennessee head coaches, left fans at a loss for how to feel happy. Florida sucked the joy dry from Tennessee's soul and spat it out in their face. Tennessee got shoved into the same dang locker like 57 times. And then, one day, it was over. Tennessee dug through eleven years of mud, floating garbage, and feces from all species to see the other side. Whether you like or dislike Butch Jones, it is not worth it to dig through the sewers of crap again.
---
Few things are as appetizing and satisfying as watching the Florida Gators get completely and utterly smoked in a football game. Watching their offensive line become mangled corpses at the hands of Rashan Gary and Maurice Hurst and seemingly 143 other Michigan defenders was to Tennessee fans what sexual Twitter accounts are to Ted Cruz. Let's watch it again!
FULLY TORQUED.
However, we should note something right here: Michigan's defense is far, far better than Tennessee's defense. It might be the best defense in the nation, which is unthinkable considering they brought back literally one starter from 2016. Tennessee's defense allowed 535 rushing yards to a likely 7-5 or 8-4 Georgia Tech team and couldn't defend outside runs by FCS team Indiana State very well despite the fact about half of their play calls were jet sweeps. Michigan is run by the best defensive coordinator in America and hasn't allowed more than 21 points in the first 59:59 of a regular season game since November 2015. Tennessee's allowed 24 or more in their last ten games against FBS competition.
There's reasons to believe that Florida's offense could just be bad enough to make this gigantic gap in performance up. Florida's 11 rushing yards against Michigan were the lowest number against a Jim Harbaugh Michigan team so far. While Michigan has the best defensive line out there, it was aided by what appears to be the ninth bad Florida offensive line in a row. Feleipe Franks is the starter, but you might have to consider his first game being against Michigan a wash – he spent basically 60% of his time on the field running from defenders. When you think about it, we know very, very little about Florida.
That's why it's important to remember what we anticipated in the preseason: Florida's probably got yet another great run defense and yet another ugly offense. Nothing Michigan did denied these two things. Florida gave up 215 rushing yards, but it was on 49 attempts, and 29 of those runs went for 3 yards or less (11 for a loss). Michigan's got three explosive running backs, and Florida held two of them in check. (The closest Ty Isaac comparable on Tennessee's roster is probably Ty Chandler; something to watch.) Wilton Speight's a pretty average quarterback, but Florida made him look like a horror show at times. As far as we know, Quinten Dormady's pretty average, too.
We don't know a ton about Tennessee, either, but I think we know two things for sure: the run defense is awful and the offensive line has looked like the September/October 2016 offensive line for seven of eight quarters. We're about to find out a whole lot of answers about both teams, and the answers may come down to who's least disadvantaged in certain areas.
---
Offense
Feleipe Franks isn't a classic dual-threat QB, but he'll run
Franks played on a very good high school team in Florida's 5A division, which is comparable to about 4A here. Franks gets noted as a dual-threat quarterback for a few different reasons including an obvious one, but he really didn't run much in high school: MaxPreps stats show that he predominantly threw from the pocket in high school. Florida may try to run him some, but it's more likely that his runs would come from scrambles than by design. He does have some speed, though, and it flashed occasionally against Michigan:
Clunky play or not, that's good recognition of Michigan losing contain and good hustle to find the hole. He doesn't have great speed, but it's passable.
We know very, very little about Franks' arm
I mean duh. He had nine pass attempts against Michigan and we can learn something from maybe five of those. Five pass attempts is a terribly small number to pick from, but one of those five was a really gorgeous drop in the bucket:
The other four were useful in seeing that Franks is far ahead of Zaire in throwing to the correct option. He did make one very interceptable toss:
Again, there's just not much to go on here. Franks looked fine; his offensive line really didn't help at all, and Florida's wide receiver blocking on screens remains a major issue. Zaire was a far lesser option against Michigan and it's still puzzling why McElwain let him finish the game out; I counted several plays where Zaire stared down his primary option until it was no longer possible from snap to panic. However, Zaire's still pretty useful on the ground, and I'd expect he sees the field against Tennessee in some sort of Brent Schaefer-y role.
Jordan Scarlett? Perine? Mark Thompson?
No one truly knows who Florida's starter at tailback will be on Saturday because no one knows when suspensions of two starters will end. Jordan Scarlett and wide receiver Antonio Callaway got in a lil' bit of card trouble this offseason; they rode the bench against Michigan and no one back for Florida was really able to stand out. No running back had a rush of longer than eight yards against Michigan. Of course, as I've said before, Michigan's got the best defensive front in America, IMO, JMO, TIFWIW. What Florida's backs did in 2016 matters to me quite a bit more.
You could make the argument that 2016 Florida was an offense of two locations. In their eight road/neutral site games, Florida backs averaged just 2.37 yards per carry; at five home games, 5.37. It's rare for a team to have splits that wide, and what's funny is that it's a direct reversal of a four-year Muschamp trend where the road performances were better. The best halfback is probably Scarlett, who actually played his best games against his toughest defenses: 93 yards against Georgia, 134 against Will Muschamp, 108 against LSU, and 94 to end the season versus Iowa.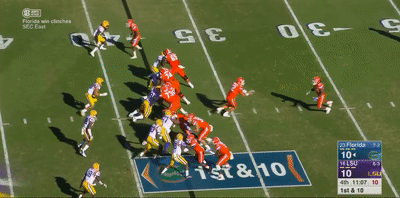 Florida's top three backs all have some amount of positives and negatives: Scarlett's shifty but inconsistent, Perine flashy but also inconsistent, and Thompson a battering ram who doesn't create explosive plays. As you can expect, attempting to feature a battering ram against the Michigan front six/seven didn't work out very well. They'll run out a rotation of those three on Saturday to try and find consistent running success against a run defense that's looked porous so far.
Florida's got athletes out wide, but needs to get the ball there first
Even without Callaway, I actually like the dudes Florida has at receiver. Callaway's the clear big dog, but Florida has a few guys that can help out if he's not there. DeAndre Goolsby (tight end) is a safety valve for any of the three quarterbacks:
He averages around just nine yards per catch, but his catch rate (71.7%) was the highest among Florida's starters by a fair margin last season. He'll focus on forcing Tennessee's already-flimsy linebackers into some weird situations. Mac will run him on a wheel route, a slant, a cross, whatever he wants. Brandon Powell (#2 WR) is alright, but doesn't create many explosive plays.
There's two new starters in Callaway's place that I'm really intrigued by: Tyrie Cleveland (flanker) and Josh Hammond (split end). Combined, the two collected 28 receptions and 475 yards (Cleveland had a pair of TDs) in 2016. Cleveland was especially good: his 14 receptions accounted for 298 yards, or 21.3 yards per catch. Per CFB Film Room, Cleveland Air Yards/Target of 17.1 led the entire team last year. Del Rio/Appleby clearly trusted him; seven of his 27 targets were contested, and he won three of those contests. You might remember this one:
One of McElwain's best attributes is his ability to utilize a seemingly endless amount of formations, both under center and shotgun and everywhere in between. One coach was quoted anonymously after the 2015 season as saying that McElwain "ran 38 different formations in his first 44 plays against us." That's certainly quite a bit different than what fans see from Tennessee. I have the Vols at 14 formations total through two games. McElwain will use this unique NCAA Football series-esque formation roulette against Tennessee to try and poke holes at a questionable defense. How much success he'll have is anyone's guess.
Offensive line?
It's not great. Florida's best defensive lineman by far (Cameron Dillard) graduated, and even a phenomenal Michigan front doesn't excuse a pretty forgettable debut performance by the new line. I haven't gotten into the intricacies of their line as much as I'd prefer. Just know that right tackle Jawaan Taylor will be a prime target for Bob Shoop.
---
Defense
Really good defensive ends, one great tackle, one question mark
Let it be said up front that Florida's got yet another really awesome defensive line. That's CeCe Jefferson you see above burying Danny Etling under Baton Rouge grass. Jefferson accounted for ten stuffs in 2016 (run TFLs), seven QB hits, and eight hurries…and he didn't lead Florida in any of those categories. Jabari Zuniga had 10 hurries and five sacks, new starting DT Taven Bryan had ten hits and ten hurries as a backup, and even backup DT Jachai Polite had four stuffs and four hurries in limited action. Regardless of the rest of the team, this has consistently been a unit that causes major backfield havoc for every opponent they play.
Lost in the shuffle of Florida being big-manned by Michigan was this unit having some serious success in game one. Florida's defensive line, including backups, accounted for five sacks and three additional tackles for loss on the ground. They had a pretty great game! They also weren't helped at all by their defense or by a secondary that's in flux. Just remember that this unit can absolutely terrorize offensive lines, even the good ones.
All-new linebackers
Florida had so many injuries in 2016 on defense that, by the time the LSU game rolled around, there were seven opening-day backups starting. And they won. Funny how injuries don't matter when you're well-coached. Anyway, Florida still replaces those starters with three new guys, and they were…thoroughly mediocre in game one. There was one clear standout heading into the season here and he's still the standout: MLB David Reese, a true sophomore who was the best run stopper in the back seven as a fill-in starter last season.
Reese had 13 stuffs in 2016 and just three missed tackles on 57 attempts; he's a serious star in the making. The other two? Well, they look new. And young. OLBs Jeremiah Moon and Vosean Joseph, a redshirt freshman and true sophomore, combined for seven tackles, one for loss against Michigan. Joseph was absolutely horrific in space in 2016 (7 missed tackles on 15 attempts) and has nowhere to go but up. Moon we know little about, other than that he was a well-regarded recruit who was expected to commit to Alabama. Behind these guys, a fill-in 2016 starter (Kylan Johnson, who's fine) and a few JAGs are there to, uh, help.
One star DB, two good dudes, and a freshman
You already know about Duke Dawson, who will play and succeed wildly at the next level unless something bad happens. Let's talk about the other three guys. The two safeties, Chauncey Gardner and Nick Washington, were both in and out of lineups last year. Gardner's targets were predominantly shorter and he wasn't asked to do very much, but he succeeded pretty well anyway: two pass breakups and three interceptions on just nine targets! Not bad at all.
Washington had a pass breakup and an interception, along with winning three of four contested ball battles, per CFB Film Room. You can't take much from the Michigan game for either: Gardner went out with an injury (he'll start on Saturday) and Washington missed several plays during which Michigan dropped a 46-yard bomb on his replacement. What I could draw from their play is this: Washington is really bad at tackling in space. That's it.
Freshman Marco Wilson is a serious question mark. Making his first game be against Michigan isn't fair, but that's life. Wilson got smoked on a deep ball and struggled from time to time against his competition. I'd figure Tennessee would try to position Callaway or Josh Palmer on Wilson to test him. However, freshman vs. freshman is probably a lose-lose proposition for both sides.
---
Special Teams
One of the best punter battles of 2017
Not a joke. Johnny Townsend is good as heck at kicking the ball. Townsend averaged 48 yards per punt last season (insane). He is already at 54 per punt this year (even more insane). In what could very easily be a low-scoring, sloppy game, both have NFL-level punter weapons that can flip the field with serious ease. Both Townsend and Trevor Daniel might be booting the ball around for your favorite professional team in the near future.
Their kicker's still awesome
Eddy Pineiro! Bill Connelly calls him a "human touchback," which is spot-on. He's pretty much automatic under 40 and still very good over 40. I also would like to remind you of this:
This is the dude who will break your heart, Vol fans. pic.twitter.com/cbdPMxNRgY

— Jon Reed (@Jon__Reed) December 16, 2015
There really is a Jon Reed tweet for everything.
---
Prediction
This game, more or less, comes down to three things:
Tennessee's offensive line holding up to some extent against a potentially dominant Florida front four.
Florida's receivers finding space against a questionable Tennessee secondary.
The stoppable force of Florida's run game versus the very movable object called Tennessee's run defense.
The fourth thing, if there is one, would be how well Tennessee can overcome a big place-kicking advantage on Florida's end. Like it or not, Pineiro's a lot more consistent with a bigger leg than Aaron Medley has been over the last couple of years. It is what it is. If you ask me, here's the most likely event of these three occurrences.
Tennessee's hole-ridden offensive line struggles mightily against a creative and frustrating Florida front, even though John Kelly still gets yards. Kelly will get his yards regardless. It's two games into the JK Era, but it's been a very long time since a running back has created his own holes the way Kelly does. He'll probably be fine. Quinten Dormady? I'm not so sure. Dormady showed against Georgia Tech that, while he can feel and recognize pressure for the most part, he's prone to panicking both in footwork and in his throws. Dormady should've had at least one interception if not two in that game, which would have certainly swung it Georgia Tech's way. And that was a GT front that ran pretty vanilla stuff. Florida's got two likely NFL Draft picks and a third potential one on the line. Based on what I've seen so far, give Florida a heavy advantage here, especially if it's Jefferson vs. Drew Richmond.
The passing game for Florida ends up being alright-ish, though the game isn't lost here. Tennessee's cornerbacks are pretty weak, but I can't really foresee Florida hitting on deep balls in this game. Both Nigel Warrior and Micah Abernathy have been solid and reliable so far, perhaps two of a slight few players on that side of the ball. I don't know, maybe give Tennessee a small-ish advantage? Could be a deal where Tennessee gives up quite a few yards through the air but forces three field goals.
Until further notice, Tennessee can't stop air on the ground. The ignorance of Butch Jones to suggest that fans don't understand why players would line as many as two yards off the ball is brutal. Eagle-eyed observers of Georgia Tech's game on Saturday against Jacksonville State will note that one of the finest FCS programs out there (John Grass is one of the best coaches you haven't heard of) went helmet-to-helmet on the line with the Yellow Jackets. They weren't scared of cut blocks; they embraced it. In case you've forgotten, FCS teams get 22 fewer scholarships than FBS teams. Wouldn't the FCS team be the one to "avoid injuries" by lining up two yards off the ball? Unless certain players on the line get significantly tougher this week, even a weak Florida line will be able to open up holes for a rotation of backs and for Franks/Zaire. Florida wins, 2-1.
All three of these battles are winnable, and if that's so, Tennessee wins this by a score of around 24-21. The issue is that all three can also be lost, and at this point in time, that seems a little more likely. Florida, 26-18.