Either you WOO or the WOO overtakes you.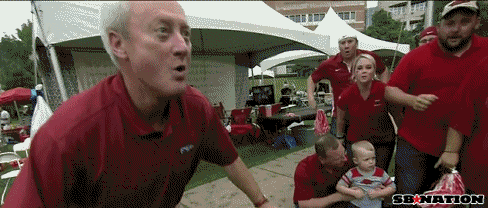 There is no stopping it; the WOO subsumes all in its midst until you, too, cannot stop thinking about it.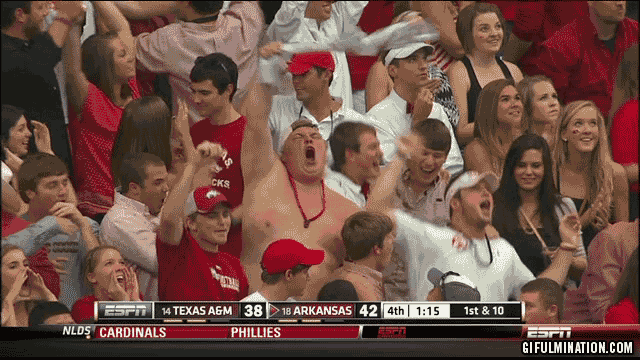 The oinking, baying hogs of the world are rolled over by it, in love with it. They cannot get enough of the WOO. They are the WOO. You must defeat the WOO this time.
---
This stupid friggin' team again. Prior to last year's blessed 84-66 SEC Tournament destruction of the swine, Tennessee had lost six straight games to Arkansas. You will remember some of these fairly well: losing a second-half lead to Arkansas in Fayetteville in the last days of 2017, losing a second-half lead to Arkansas in Knoxville in the first days of 2017, losing a (three-point) second-half lead to Arkansas in Knoxville in 2016, losing a second-half lead to Arkansas in Fayetteville in 2016. You get the point.
This team never dies, as much as you want them to. I have watched Tennessee lose NINE DAMN GAMES to this team by five points or less in my lifetime, six of them from the Bruce era onward. The Vols are 4-4 against Arkansas when they're ranked and the Hogs aren't. Arkansas has not been a serious national threat since I was in kindergarten and haven't even been a serious regional threat for more than a few years out of the last 20, but they always beat Tennessee, and God am I sick of it.
I was all excited for this team, finally, to be the one Tennessee would wipe from the earth. Five of their top six players from a year ago departed, eight of the nine rotation players are freshmen or sophomores, and they're still coached by Mike Anderson. So of course Arkansas beat Indiana, should've beaten Texas, and nearly beat both Florida and LSU. OF COURSE they're a perfectly fine 8-10 SEC team that will inevitably beat both Ole Miss and Mississippi State for some reason. How long must we suffer from the WOO? How much is enough?
---
WHAT THEY BRING
Yet another excellent transition offense…
Which shouldn't surprise you if you've watched Arkansas play basketball in the last five years. Despite turning nearly the entire team over, the Hogs are in the 83rd percentile in transition offense, averaging 1.131 PPP per Synergy. Looks like these are pretty common:
Arkansas loves to play fast and loves to get open shots by forcing defenses to rush back before they'd like. Tennessee needs to be diligent tonight: they can get offensive rebounds, but not everyone can crash the boards. This isn't quite transition, but it shows Arkansas busting the Florida press easily:
It's a very young group, so they're far from a solidified whole. They'll make plenty of mistakes. They're terrible at free throws. However: they're fun to watch, and it does count for something. The good news:
But they're terrible in half-court and (mostly) can't hit jumpers
Once Arkansas loses the ability to out-hustle you down the floor, they lose essentially all of what makes them interesting offensively. Arkansas ranks in the 33rd-percentile in half-court offense, the 20th-percentile in zone offense, and the 11th-percentile in jump shot conversion rate. The Hogs have two good shooters in freshman Isaiah Joe (51 of 118, 43.2%):
And sophomore Mason Jones (36 of 93, 38.7%):
Every other player on the Arkansas roster combines for a smooth 28 of 134 (20.9%) conversion rate from three this season. This isn't from deep, but it's from Jalen Harris, who is 5 of 37 on threes and 20 of 83 (24.1%) on all jump shots:
It's insanely frustrating to me that Arkansas ranks third nationally in conversion rate at the rim (74.5%!), yet takes 65.1% of their shots in places other than the rim. Sure, maybe if they took more shots there, that rate falls. Maybe if you didn't forget to put a belt on today and tie your shoes, you wouldn't be face down on the ground with both cheeks visible to the world.
Daniel Gafford (feature Harris pass here)
As much as I want to hate this half-court offense – and I do – it does feature a first round NBA Draft pick. Daniel Gafford is the best dunker in the South:
(Great pass from Jalen Harris, by the way. For all his faults, he's excellent at finding open guys.) The Gafford stats are pretty laughable at this point: 44 dunks in 15 games, a 90 of 110 conversion rate at the rim (81.8%), 17.5 PPG despite never taking a shot further out than 10 feet. He also does the Kyle Alexander turnaround now:
Gafford just got done making 14 of 15 shots at the rim and 5 dunks on a mediocre LSU defense. Tennessee's gotta come prepared, because I promise that they won't want to see this happen to them:
Very good transition defense, good-ish press
I suppose it makes sense that a team that's good at transition offense would be good on defense as well. Despite giving up nearly 21% of opponent shots in transition, Arkansas ranks 25th nationally in opponent eFG%. It helps when you have dudes that can do stuff like this:
Arkansas also runs a press at a similar rate as Florida, which means they'll be working to force turnovers in the backcourt. Tennessee mostly avoided these, but Arkansas is not afraid to catch opponents napping:
Lastly: they do run a zone at times; if nothing else, it makes opponents use more of the shot clock. However, I don't think they're very good at it, and they give up a lot of open looks from it, including both of these open misses:
Gafford and Chaney block shots, but an awful rim defense on the whole
Gafford's NBA translation: he dunks a ton, gets buckets at the rim, and blocks shots. Which, hey, that'll work:
Who knows if his partner Reggie Chaney sees the NBA, but I'd say he's good at blocking shots, too:
Unfortunately for Arkansas, you kind of have to do other things on defense than just block shots. And when they don't…well:
It makes no sense for Arkansas to be as bad at rim defense as they are, but, well, that's life. The Hogs allow a 70.8% conversion rate at the rim, which is fifth-worst in the nation. (349th of 353, if you prefer.) Despite having these two studs, just 8.7% of rim attempts get blocked, which ranks 225th. Arkansas finds way more success in blocking two-point jumpers, which happens nearly 22% of the time. It's a real do-or-die scenario: either you shoot from three or you go to the rim. Sounds ideal to me! Speaking of threes:
Opponents get tons of open threes
If you just look at opponent shooting percentages, you'd think Arkansas has a great defense. They've allowed a 29.9% hit rate from 3, 46.6% from 2, block 17% of opponent's shots, force turnovers on 21.3% of possessions. Sounds pretty daunting to me! Except for the part where 43.5% of opponent shots (306th nationally) come from three and allows 57.4% of catch-and-shoot threes to be unguarded (350th). That's a recipe for disaster against a hot team from deep. Arkansas has yet to be truly burned by this, but they've given up double-digit threes five times this year and have allowed a 40% or better conversion rate five times. Why's the overall number so low? Because Austin Peay shot 4 of 25, FIU 6 of 37, and UT Arlington 6 of 27. There you go.
---
HOW TENNESSEE BEATS IT
Draw their big men to the perimeter
Because making Reggie Chaney or Adrio Bailey cover Grant Williams to 22 feet:
And making Daniel Gafford do the same with Kyle Alexander:
Sure seems ideal. When all five players are able to shoot from 22 feet and you have an elite offensive rebounder on the court, you've kinda solved offensive basketball.
Drive to the rim repeatedly
Considering Arkansas has one of the worst rim defenses in the nation and that most of their defensive success comes from good luck on threes/demolishing mid-range shots, it might be wise to go to the rim. Either you're going to score or you're going to get fouled, as Arkansas ranks 272nd in opponent free throw rate. So, yeah, do your thing, Admiral Schofield:
Jordan Bowden, suddenly an assertive, excellent driver to the rim, should also keep doing his thing:
And well yeah Jordan Bone too I guess. Seems fine.
Hammer the offensive boards
This shouldn't be so, considering they have Gafford, Chaney, and three other guys who get 10% or more of available defensive rebounds, but it is. Arkansas ranks 295th in opponent OREB rate, a truly hideous number for any team looking to keep opponent shot volume down. Hey, did you know that John Fulkerson is #1 in OREB rate on a per-minute basis?
Make Arkansas take bad mid-range shots
Arkansas has hit 23% of their two-point jumpers this year and 20.4% of their non-Joe/Jones three-point shots. So, uh, make them take jumpers:
You keep the ball out of the basket! We love it!
Get back after turnovers/missed shots
As you can gather, Arkansas loves to run all 94 feet, up and down, over and over. This team isn't as deep as years' past, but they've got good-enough endurance. As such, Tennessee really needs to get back after unforced errors on offense. Made shots aren't as big of a deal because you have time to set your defense up. Missed shots are ones Arkansas can take advantage of. I was really encouraged by Tennessee's work in transition on Florida, who missed all seven transition attempts on Saturday. This isn't Florida, but it's a good block:
Clean, tough defense on Gafford
Brute force defense isn't a terrible idea either; Gafford's a career 54.8% free throw shooter and it sure beats letting him dunk on you. But: Gafford has been blocked four times this year, two of which came at the hands of Western Kentucky's Charles Bassey. LSU got in on the action, too:
Of course it's dangerous. But: wouldn't it be super fun to let one of the best rim defenses out there do their thing?
---
LINEUP NOTES
Arkansas:
Same starting lineup in all but one game so far: Harris/Joe/Jones/Bailey/Gafford.
Sills and Chaney both get sixth-man type minutes at around 16 MPG.
Barring serious foul issues or an injury, Arkansas's rotation stops at nine, with Embery-Simpson and Osabuohien.
Gafford played more than 30 minutes in three games last season; he's hit the 30+ mark four times in the last month.
Most Arkansas lineups feature Harris, Jones, and Gafford.
Tennessee:
Same starting lineup as usual.
In all three conference games, Bowden has played more minutes than Pons. In all but two games since the switch, Bowden has played more minutes. You might as well consider Bowden the starter, because he's getting starter minutes. Pons played 19 combined minutes against Missouri/Florida, his lowest two-game run this season.
Turner is getting 6MotY minutes again: 29 against both Missouri and Florida.
Two straight DNPs for Jalen Johnson, who played in all but one of the non-Turner games but has played just twice in the five Turner games. Might be a pattern.
---
KEY MATCHUPS
Kyle Alexander vs. Daniel Gafford. Alexander had a rough go of it with Brandon Clarke, probably the most similarly-bodied center he's faced so far. However, Gafford's yet to go up against an interior defense as good as Tennessee's; he got just 9 points against Florida and picked up four fouls.
Jordan Bowden/Yves Pons/Admiral Schofield vs. The Two Good Arkansas Shooters. Bowden is the best perimeter defender on this team; no one else has his ball denial skills. Pons gets lost sometimes, but can stay in front of anyone. Schofield is Schofield. I'd be a little disappointed if Arkansas hit more than 30% of their threes in this one.
John Fulkerson vs. Foul Trouble. Fulkerson's played 26 minutes in the three SEC games and has accumulated nine fouls. That won't cut it long-term, because Tennessee needs his 10 minutes per game for depth purposes and for rebounding purposes.
---
PREDICTION
Tennessee 86, Arkansas 69.