With Fastlane this Sunday on the WWE Network, we're approaching the last pit stop on the Road to WrestleMania. WWE had a tough task in following an absolutely explosive week of television last week, but enough of what we saw this week should be considered a resounding success, especially from the blue brand.
Both brands had pivotal moments throughout their respective shows featuring a Shield reunion and a Ronda Rousey heel turn from Monday night, and a Mustafa Ali return and an incredible title change from Tuesday night. Both shows delivered in their own ways, but how does it change the landscape heading into 'Mania? Fastlane will surely give us a better idea of what feuds will carry on, but RAW and SmackDown gave us plenty of material to talk about until then.
Today, we continue our Road to WrestleMania series, looking at the three hottest story lines heading into the Grandest Stage of Them All.
Putting the "Rowdy" Into Ronda Rousey
Maybe its just me, but has anyone ever realized that the nickname "Rowdy" has never really fit into Rousey's character, like…at all? On Monday night, she earned her nickname.
After Stephanie McMahon set up a match between Charlotte Flair and Becky Lynch for the WWE RAW Women's Title for Fastlane, the cameras cut to Rousey storming from the parking lot and into the ring, right on cue. But Rousey came down with completely different intentions than her usual happy-go-lucky promos, immediately calling out McMahon, Flair, Lynch, and most important, the fans!
Heel turn! It's a shoot, brother!
Rousey decked Flair square in her face, but then went on to absolutely destroy Lynch, standing on her head gloating on the edge of the ring, holding up her Women's Title. So essentially, this is going exactly where we all expected it to go, which is a triple threat match between Lynch, Flair, and Rousey at the main event of WrestleMania 35. The only real shocker here is WWE being cornered in the booking of their match, after fans have turned on Rousey being a babyface and Lynch essentially tombstone pile-driving Rousey into the depths of the social media wasteland on Twitter last week. I like this decision to turn Rousey heel. Because with Flair being able to act out a masterful bad guy, and Rousey organically turning into one, its only going to make Lynch overcoming both villains that much better when she eventually holds up the title to close the show.
JOE! JOE! JOE!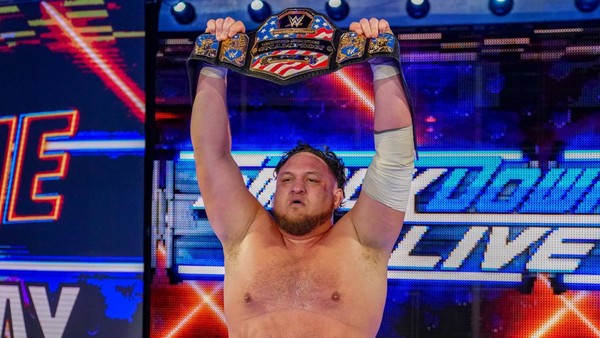 Man, I was not prepared for the halfway point of SmackDown Live this week, and it completely blew me away. What was I thinking though…how could a match between Samoa Joe, Rey Mysterio, Andrade, and R-Truth EVER disappoint!? Let me tell you that it, in fact, did not.
The match itself was a spectacle, featuring false finishes, hurricanranas, and MY GOD WAS THAT A CANADIAN DESTROYER?! We could go on and on talking about how great of  a match this was for free TV, but the real story here is the new United States Champion: Samoa Joe. I really believe that we're going in one direction and one direction only here: Samoa Joe vs. John Cena at 'Mania. If you look closely enough, you can see the seeds being planted. R-Truth using the Cena gimmick back-to-back weeks could be chalked up to coincidence, but Joe even making a reference to Cena during his post-match interview blew it out of the water in my eyes.
If that doesn't happen, give me a ladder match involving these five guys at 'Mania to really steal the show. But, regardless, with Joe finally entering a WrestleMania season fully healthy, this will be an incredible time for the mid-card of the blue brand, as Joe has been one of the most undervalued superstars WWE had in all of 2019.
Sierra. Hotel. India. Echo. Lima. Did this already.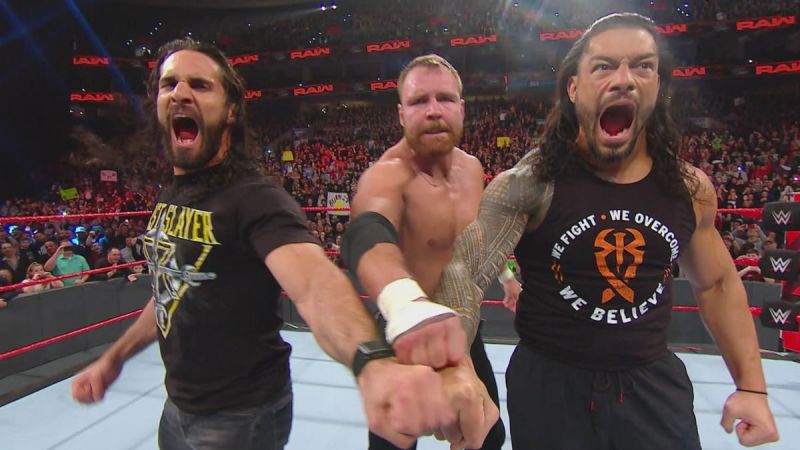 I, for one, absolutely LOVE The Shield. My own personal fandom inclusion back into the WWE years ago started when The Shield attacked during Survivor Series in 2012. But since then, we've already had two breakups, and now two reunions as well. But this hasn't taken place over the course of the seven years since their debut, instead were now getting our second reunion since late October 2017.
Don't get me wrong, I don't hate the outcome. But I do absolutely despise how we got here. Logistics aside and only speaking from a kayfabe mindset, it was baffling how we are supposed to believe everything between Dean Ambrose and Seth Rollins, and Ambrose and Roman Reigns would resolve so quickly. Ultimately, this all just feels so similar to what we already got just a year and-a-half away, which definitely takes a lot of the magic away in my mind.
BUT WAIT. Put on your tin foil hats with me, because I'm about to give you the exact reasons why this is all happening, and why one week from today, none of what I just said will matter. Mark it down now, Ambrose will turn on Rollins and Reigns during their match with the aptly fantasy-named "Mid-card Heels", setting up a WrestleMania match between Ambrose and Reigns. I mean, it's perfect. It's absolutely golden.
Bring the three guys to the absolute mountain peak moment, but before anyone can even take a breath, rip the rug out from under them, giving us what should be an incredible build to 'Mania for these guys. Just imagine it!  A lunatic Ambrose and a pissed off Reigns feud helping carry the flagship show until April would not only jack up ratings, but provide genuine excitement and intrigue to what has been a fairly stale show in 2019 so far. Just like Chris Jericho and AJ Styles from a couple of years ago, WWE has the opportunity to pull off one of the biggest and best executed teases in history, to really get the juices flowing for WrestleMania season.