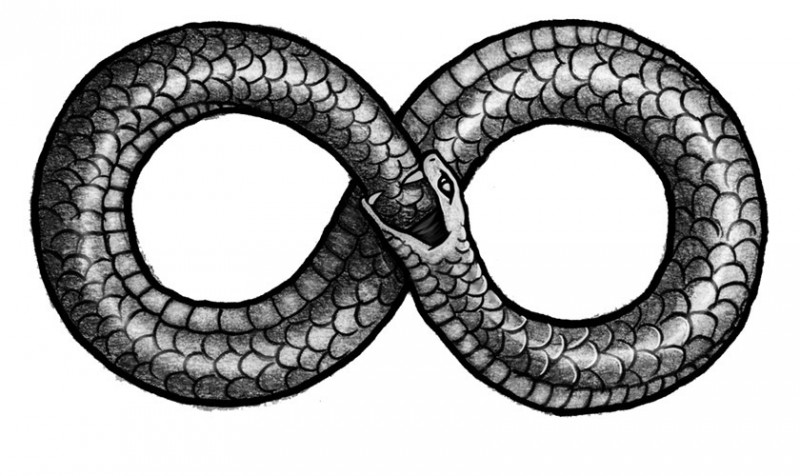 I mean whatever we're just gonna pull this from Wikipedia.
'The Ouroboros has been said to have a meaning of infinity or wholeness. In the age-old image of the Ouroboros lies the thought of devouring oneself and turning oneself into a circulatory process, for it was clear to the more astute alchemists that the prima materia of the art was man himself. The Ouroboros is a dramatic symbol for the integration and assimilation of the opposite, i.e. of the shadow. This 'feed-back' process is at the same time a symbol of immortality, since it is said of the Ouroboros that he slays himself and brings himself to life.' – Carl Jung
---
If you don't like negative views or opinions on the most baffling, stupid loss to a rival in recent history, I suggest you look at pictures of boxer puppies. Y'all ever seen those? There's a reason people put up with them peeing everywhere. So cute! Love those things. Anyway, yeah, if you don't want to read it, that's fine. I still love you either way.
It is rather difficult to name three people on the planet Earth better at slaying themselves than Butch Jones. It is also difficult to name people better at bringing themselves to life with insane, immeasurable amounts of luck than Butch Jones. Some games the cycle ends with Jones bringing himself back from the dead. Sometimes the cycle ends by inventing a new way to lose to your biggest rival because the head coach refused to run the ball at the one-yard line.
These columns normally require a lot of half-baked thoughts scrambled into some sort of garbage casserole. This is not one. This is a simple column that has one premier thought: Butch Jones should resign as Tennessee's head coach at the first opportunity available.
---
1. The goal-line plays
Everyone in the stadium knows who the best player on either team is: John Kelly. Kelly had 237 total yards in this game, a game that he 110% deserved to win. But the best player in the entire game received precisely zero plays designed for him out of seven within ten yards of the Florida goal line. This is inexcusable, embarrassing, fireable coaching. Everyone implicated in this situation should be reprimanded severely: Butch Jones, Larry Scott, the staffer who helped print out this week's playbook. Everyone.
2. The quarterback
It is not Quinten Dormady's fault that he isn't very good at football. But Quinten Dormady is not very good at football. Three interceptions (one returned for a touchdown), numerous other interceptable passes, and precisely one well-thrown ball in a game where he had 39 attempts should have told fans this. I was skeptical after the first two games and have been given far more reasons to be skeptical. Credit where credit's due: Dormady did throw a mildly fine pass to John Kelly that should've been a touchdown in the fourth quarter. Still, Butch Jones should have given Jarrett Guarantano snaps in this game. We will refrain from Dormady-bashing as no college athlete deserves it when the person who coaches him is to blame.
3. The offensive line
Insufferable, flaming garbage. In Year Five. A true freshman is by far the best player.
4. The offensive play-calling
Just as confusing under Larry Scott as it was under Mike DeBord and Mike Bajakian. Guess who's the common thread? Butch Jones.
5. John Kelly
John Kelly got 25 touches in this game. I remain confident that if he'd received 30+, Tennessee wins this game running away. John Kelly was third on the 2016 depth chart behind second-string Alvin Kamara (in the NFL) and first-string Jalen Hurd (lost to Liberty and UTSA). That's a fireable offense.
6. Marquez Callaway
The best receiver on Tennessee's team received two targets in the final 23:09 of this game. Two targets out of 15 attempts to the best receiver on the team. Be thankful for John Kelly. One of those was the pick six!
7. The defensive line
It's time for a mea culpa: this defensive line balled out for most of the game. Minus the 74-yard run, the defensive line really held their own. You could tell how much of a difference Shy Tuttle made in this game, especially. Also, notice how the defensive line finally lined up on the line of scrimmage after the head coach was asked about it at a public press conference?
8. Special teams
I thought this might come down to whoever had the best kicker, and it did: Butch Jones rotated two kickers for no reason at all, shredding the confidence of both and having his team miss three field goals, any one of which would've given Tennessee a 23-20 lead on the final play or better. But: Tennessee's special teams return coverage was really good outside of one kick return and Trevor Daniel remains a star.
9. Fireable offenses
Some we didn't cover:
Outgaining Florida by 126 yards (prior to the final play), on the road, and losing.
Literally anything Jim McElwain did in a critical situation.
Yet another comeback created because coaches decided to let athletes be athletes late in a game and not at all because of coaching.
This tweet:
Butch on final play: "We were in a nickel. But with injuries, we didn't have a dime."

— @GrantRamey (@GrantRamey) September 17, 2017
10. Butch Jones
First, we must list what Butch Jones has done. 4.25 years in, he has, indeed, gotten Tennessee back to vague respectability. Tennessee went 5-19 in the SEC under Derek Dooley and precisely one of those wins was against a team not named Kentucky or Vanderbilt. Tennessee is now 14-19 in the SEC under Butch Jones, but they did beat Florida and Georgia a couple times. Tennessee, under Derek Dooley, was routinely a low-teens/high-20s recruiter. Tennessee's worst recruiting class under Jones would've been Dooley's best. That's positive. Butch Jones is also 4-0 against Kentucky and hasn't lost to a Group of Five team, but Derek Dooley didn't even do that.
But, yeah, Fire Butch Jones. Those who say Tennessee should wait until the end of the season to "save money" are the problem: Tennessee needs to beat other schools to the market. Unlike last time out, when Tennessee had no serious contenders for a new head coach (Auburn never seriously considered any of Gundy, Fedora, or Jones), they will have to fight with Texas A&M, UCLA, and probably Notre Dame. Those are three schools with serious money who are seriously tired of Not Being Good Enough. Tennessee doesn't have the academic restrictions of UCLA or Notre Dame and doesn't quite appear to have the insane inner politics of Texas A&M, so they may end up getting the coach they want regardless. But they shouldn't be waiting.
Butch Jones has plateaued at the University of Tennessee. He plateaued at a very precise moment: September 24, 2016, when he called a late timeout to celebrate Tennessee's first defeat of Florida in eleven years. Whether you liked the Hail Mary or not, Tennessee should've lost to a 7-5 Georgia team. It's been downhill since. Through 4.25 years at Tennessee, Butch Jones is 19-22 against Power Five teams, 3-10 against the Big Three, 14-19 against the SEC, 0-8 against the SEC West, 2-2 against Vanderbilt, 0-4 against Alabama, and is two points and a Hail Mary shy of 4-0 against Florida. That's all you need to know, that's all you'll need to see.
---
At some point, you're either the snake that keeps willingly eating its own tail and hoping to play Whammy and land on a good outcome or you break the cycle. That's John Currie's problem now. I'd suggest he act wisely, because players, fans, and alumni deserve better than this. They deserve better than the numbers you see above. They deserve better than to have to reasonably consider eating their tickets the rest of the season to send a message to the elitist freaks that run these things. They deserve better, period. We deserve better. You deserve better.