From Pasadena to Boca Raton, a true sadness reigns.
It's truly heartbreaking to see a man despair in public, regardless of if you like them or not. Depression is a very serious issue that needs to be treated with great respect. I'm wondering why no one in Boca Raton has stepped up to get Lane Kiffin some help.
Lane Kiffin seems pumped for that new job https://t.co/hlvuoxACXD

— Busted Coverage (@bustedcoverage) January 31, 2017
Why is Lane Kiffin hurting so badly? We asked his friends and colleagues to help us out.
Lane Kiffin's long, illustrious coaching career has taken him from USC to the Oakland Raiders to Tennessee to USC to Alabama. Now, he's in Boca Raton, Florida as the Florida Atlantic head coach.
Pat Haden, former USC AD: It's just tough to watch.
Pete Carroll, former USC head coach: Lane used to be so, so happy. He'd be upbeat, running around, joshing around with recruits, players, coed–excuse me, students. He'd be out there all day, every day. Few people loved the sun and the California heat like Lane.
Unnamed USC player: I mean, the dude would do nude runs on the ocean at 2:30 in the morning. He just loved to be awake and alive.
Mike Hamilton, former Tennessee AD: I think the sadness really began when he lost to UCLA in his second game. It brought back some really awful, bad memories. He just wasn't the same.
In 2006, USC lost to a UCLA team as nearly two-touchdown favorites in the final game of the season. They put up 9 points. If they had won, USC would have likely played in the National Championship game ahead of eventual champion Florida.
Carroll: It just wasn't the same. He'd watch the film of that game on repeat 12 hours a day. He called me at 4:15 AM once screaming about a missed holding call. This was four months after he accepted the Raiders job.
Haden: I really think it crushed him, you know? He grew out his facial hair and no one had the heart to tell him how bad it looked.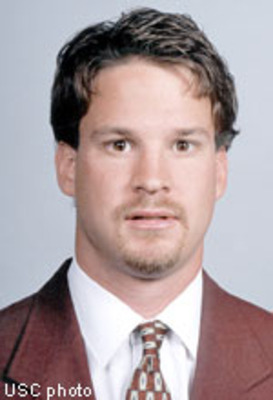 FOX Sports Knoxville was able to contact a surprising guest through a medium.
Al Davis, dead owner of the Oakland Raiders: After he took the job, I kept talking about how fast I wanted our players to be. He'd nod his head yes, then start muttering about his gameplan for the UCLA game. This was nearly a year after.
JaMarcus Russell, former QB of the Oakland Raiders: He was obsessed with it, it was scary. (to friend in room) No, I don't want Wendy's. I gave that (expletive) up. Wait, where were we?
Kiffin's next two years were wild: he'd be fired from the Raiders after 20 games, hired by the University of Tennessee, then hired by USC.
Haden: I really thought he'd be truly happy again by coming back. But it was weird – even in the highlights of his interview, it's like he knew something was wrong. He kept making this slightly sagging face. I just didn't get it. It went with him throughout his time with USC.
Carroll: I left so Lane could take this job. I didn't leave so he could mope around the whole (expletive) time. I mean, what the (expletive) does he (expletive) think USC is? A (expletive) clown show? (expletive) that (expletive). He once emphatically argued with me that 9/11 was not an inside job, and I told him to go (expletive) himself.
Kiffin was fired from USC after three-plus disappointing seasons. He took a position with Alabama as the offensive coordinator.
Nick Saban, head coach of Alabama: (Expletive) off.
Kirby Smart, former DC at Alabama: I liked that guy. Good guy. How do you guys feel about recruiting? We've got a bright future here at Georg-
Bill Battle, former AD at Alabama: Lane's a good man. But like Pat said, he kept…sagging.
Steve Sarkisian, current OC at Alabama: Lane was fired right before the title game, and…man. What a guy. I really do have half of my career to thank him for, he's made me look so much better than I thought I was. Lane Kiffin really is the best workout plan. I don't get why he's sad, he makes so many people so happy. Maybe that's his quandary.
Kiffin left for Florida Atlantic in December, but elected to remain the Alabama OC through the playoffs. Nick Saban elected to fire Kiffin prior to the National Championship game instead.
Haden: I really do hope he finds happiness. I think being close to the water again will help.
Carroll: It'd be about time.
Saban: (unintelligible muttering)
Hamilton: If I could, I'd rehire him right now. He's such a good man and surely he's learned not to leave after one year.
Lane Kiffin could not be reached for comment on this very obviously fake oral history. Through his agent, he let us know that Lane is "actually really happy" via a letter to our station, though some of the ink was oddly smeared due to some form of liquid being dripped throughout the page during writing.