Nickelodeon announced on Wednesday that they were bringing back their "iconic" game show "Double Dare" for 40 new episodes on this summer.
(Iconic? Psh, yah okay)
Reboots are hot right now. I feel like Netflix kind of got the ball rolling with "Fuller House" when it comes to TV. "Roseanne" is still (surprisingly, to me) dominating the ratings for ABC even though I didn't know people really liked that show when it was originally on. MTV rebooted "Jersey Shore" and NBC is constantly flirting with the idea of bringing back "The Office."
(Shoutout to Andrew Garfield and Emma Stone for their Amazing Spider Man reboot that is, in fact, better than the original Tobey Maguire one even thought the haters and losers refuse to admit it.)
Nickelodeon decided it was time to bring back "Double Dare."
The internet was happy despite the fact that "Double Dare" is very overrated- just like its host Marc Summers. Nostalgia made you excited, but the fact of the matter is that the show is inferior to much greater shows. I refuse to get excited for the, at best, fifth best show that Nickelodeon offered during that era.
5. Double Dare
Look, I *just* said it was at best the fifth best show that Nick offered. I said that because I couldn't think of five better. I only got to four. This show does get points for how cool it had to be to just blurt out "I'll take the physical challenge."
4. Figure It Out
Summer Sanders was one of the first women I ever fell in love with. I day-dreamed about covering her with slime.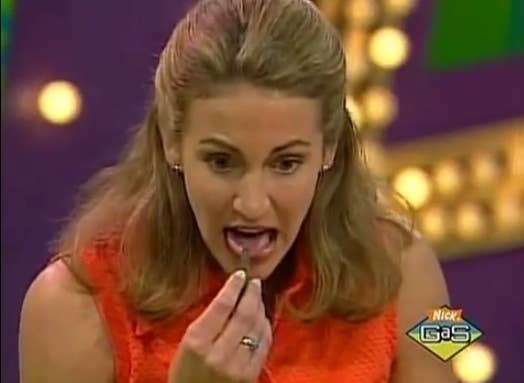 And DAMMIT, Amanda Bynes wasn't far behind her for eleven year old Jon Reed before she turned into a lunatic and I realized I preferred dark-haired women.
Figure It Out was the kid version of Wheel of Fortune except instead of letters you had to ask yes or no questions without saying the secret word and getting covered with slime.
3. Wild and Crazy Kids
I used to think that Omar Gooding was the coolest guy ever.
The dizzy bat home run. Rodney Peete throwing you passes off of the diving board. Cops and Robbers. Tug of War. Human Battleship.
So many games with water balloons.
Wild and Crazy Kids had the best games. They didn't have time for trivia. No nerds were allowed. Or at least they didn't survive for very long. This was just like you and your homies getting together and playing sports. Except these were better and on TV.
2. Guts
Retraction: I USED to think that Omar Gooding was the coolest guy ever. . . UNTIL I met Mike O' Malley.
Damn, I wish I wanted my own British lady friend named Mo so badly.
The entrance song was intoxicating. "Do do do do do ya have it? GUTS!!!"
The show had great competitions that usually incorporated bungee cords and let you jump really high in the sky. I loved the basketball and football challenges. It took all these regular sports and took it to the extreme.
But the show didn't rest on its success. The Aggro Crag wasn't extreme enough. So, they had to introduce the Mega Crag. Oh, what's that? The Mega Crag isn't tough enough? Well, how about you try to fight throw all of the fake snow and scale the Super Aggro Crag.
The Super Aggro Crag will always be my Mount Everest. I didn't get a chance to ascent it.
(I'm not going to climb Everest either, for what it's worth.)
1. Legends of the Hidden Temple
I'll be honest. I don't even remember who the host of Legends of the Hidden Temple was. Google says it was Kirk Fogg.
I didn't remember because it wasn't important who the host was. I don't need to remember Kirk. Because I still have nightmares about struggling to put together the Shrine of the Silver Monkey as my time ticked away.
Or for my partner to get grabbed by one of those scary ass Temple Guards only for me to have to try to sprint through the temple with less than 90 seconds remaining while repping the colors of the sacred Silver Snakes.
I was also terrified of being stuck on the Purple Parrots. I would probably just purposely throw the first challenge at the moat and take home my consolation prize of Hershey's Syrup and Chocolate Milk Mix or a Fashion Bug and give up my chances to advance to the Steps of Knowledge to listen to Olmec's very interesting story about history.
(That's right, you got to learn on Legends of the Hidden Temple without feeling like a nerd!)
You very rarely got to see a true winner on Legends. Roughly 99% of the time the show ended with you yelling at the stupid idiots who weren't moving fast enough or were so dumb that they kept going in the wrong rooms. But you kept watching to see if someone could accomplish the impossible and retrieve the artifact that Olmec was needing.
One of my childhood heroes Jammin' John was able to do it. Jammin' John, if you're reading this, please let me know. I'd like to buy you a drink and shake the hand of the man who accomplished what I could only dream of.