Welcome to the FOX Sports Knoxville weekly Bachelor recap, from Jon Reed and Will Warren.
There are now two major events in my life on the second Monday of the new year every year. The first is the National Championship. Fans of the sport got an instant classic game and a loss by a reviled character. The second isn't all that dissimilar: it's Week Two of the Bachelor on ABC. Fans of the show were rewarded with an instant classic moment by an increasingly reviled character. While that moment is 100% NSFW, we still have a great discussion point to go with after two weeks of roses and champagne.
Fellow FOX Sports Knoxville gentleman Jon Reed and I are huge fans of the Bachelor and quality college football. In addition, a lot of quality college football over the last decade-plus has taken place in the SEC. The two make me feel similar emotions: disgust, shock, awe, joy, and amazement. Why not compare the two? Better yet, why not compare some of the active Bachelor Season 21 contestants to SEC football programs? Our results, shared over a Tuesday night email correspondence, are listed below.
Jon: Chris Harrison dropping the "you're not all going to get time with Nick, so take full advantage of it when you get it" line is classic.  When they get in front of this five-star QB, they better get straight to the bag of cash. Maybe tell him how you're going to get him to the NFL. (Full disclosure: Nick sucks and would 100% be a bust that you'd hope would transfer out after his sophomore year, but bear with me.)
Episode two begins with a hurtful reminder: "Always a bridesmaid." Wait, the group date is named after the University of Georgia football! OH MY GOD, Nick the Bachelor is Jacob Eason!!! Did I just end this series in my first post?
By the way, my early takeaway is that Taylor is Mississippi State. I sense a good rivalry brewing between these two after she re-interrupted Corinne's interruption. Jasmine is beautiful, had her brief moment of glory and seems pretty likable even though I still don't think she's a threat.
Will: Corinne is fascinating in a "how depraved can this get?" sense. She's a smarter/more conniving version of Olivia from last season/Chad from this summer's Bachelorette. She decided to drop her top off on the sideline during the wedding photoshoot this week. I think Corinne is Ole Miss: she's an up-and-coming starlet who is suddenly very rich with seemingly little backstory as to why. Hugh Freeze and Corinne both know God's gonna cut that check, but they might not realize He'll cut you down all the same.
Jon: Look, the problem with this back and forth archaic method of ELECTRONIC MAIL is that one of us (read: YOU, the editor) gets to steal all of the good takes. Corinne is one million percent Ole Miss. She flaunts that she's already kissed Nick and speaks in the third person, a real Hugh Freeze move. In addition, she pulled out the Janet Jackson Super Bowl move.
Most of all, it is working to perfection for now. She's winning all the competitions. She's number one in the country with an elite recruiting class. Life is good. As a result, she doesn't even understand why everyone hates and is suspicious of her technique.
"I just put myself out there and I was just myself. That's it. That's all I did guys, literally…I was just Corinne. Also, I don't know what you guys want me to say. I'm Hugh Freeze. Laquon Treadwell and Robert Nkemdiche just wanted to play for me. They love me. I promise. I'm just Hugh Freeze."
Corinne is not going to win and is going to gloriously receive her comeuppance as we all laugh and cheer. Just like Ole Miss.
Will: I'd also roll with Liz as Tennessee. Remember the time she and Nick had relations once and she couldn't talk about anything else? Remember when Tennessee was a great football program and didn't find joy in memories alone rather than the current desperate state of affairs? I remember. Consequently, Liz caught the axe after a potential heroic introduction to the show. Turns out she had no game management skills or creative ideas at all.
Jon: Liz is such a Tennessee. She is living in the glory days, rubbing it in Kristen's face that she's already accomplished what Christen can most likely only dream of doing. Liz's hopes of winning the Bachelor crashed and burned thanks to Christen. Similarly, Tennessee's Sugar Bowl hopes died at the hands of Vandy. Christen is Vanderbilt.
Will: Christen as Vanderbilt is borderline perfect. It was the Bachelor version of kamikaze fighting – take out someone else just because you hate them that much. It may not benefit you, but who cares? Raven is obviously Arkansas. Seemingly, she's a love-or-hate type girl, just like you could love or hate Woo Pig Sooie, Bret Bielema, or pre-motorcycle crash Bobby Petrino. Also, she's from Arkansas. In conclusion, I don't think she's winning this, but she's capable of some upsets.
I can't tell which one's better than the other, but Rachel is Alabama and Vanessa is LSU. Rachel is the early favorite to me. Most noteworthy, she's very confident in the sense that she's capable of the CrockPot destruction of her opponents – slow, steady, and boring.
Vanessa is loose and very free around Nick, though she'll have to show progressive tendencies to have sustained success and awake the sleeping giant.
Jon: I'll be honest. Raven as Arkansas seems obvious. I mean, she called the pigs on national TV for crying out loud.
HOWEVER, hear me out. Raven is NOT Arkansas. Raven is Texas A&M. No, she and her thick southern accent are not capable of winning the title, but she's looking impressive early before she ultimately fizzles out and gets sent home roughly 70% through the season.
Still not sold? She revealed that she walked in on her ex-boyfriend with another woman. Second fiddle in your own relationship? Do you not see the parallels with Texas?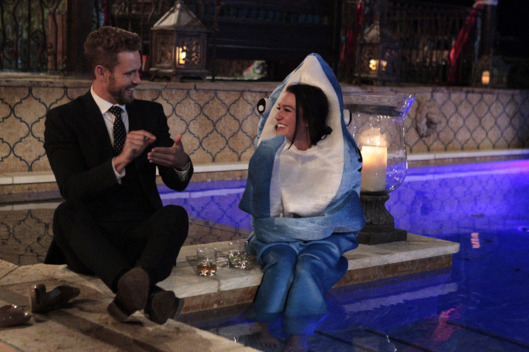 Alexis and her dolphin suit antics and shotgun wedding outfit just screams Arkansas.
Lacey was left wondering what could have been had she just taken her top off and showed herself to Nick in the pool. Hence, she knows she's in waaaaaaaay over her head. She's Missouri.
Will, I have to be honest, I have no idea who the hell you are talking about when you say Rachel and Vanessa. Therefore, I will just assume that they were on the TV shortly after the goddess Brittany was in her Eve "outfit." Until further notice, Brittany is my non-Nick pick for Georgia. She has all the tools. We will see if she can live up to her expectations.
Danielle, the nurse from Nashville, feels like an important character on the show. Presently, I have no idea what to make of her.
This show is cruel and has to damage everyone that goes on it only to get judged in front of the world. I can't decide about what is more detrimental to their psyches. Is it getting sent home by Nick, having the wedding planner make them bridesmaids instead of brides or having us label them as a school like Missouri or Vanderbilt?
Will, welcome aboard the Fox Sports Knoxville team. I can't wait to do this again with you next week as we start peeling back some of the layers on these ladies' onions. People, love can still be found. The heart can still win. The fourth time is the charm.